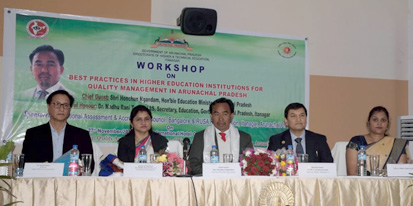 ITANAGAR, Nov 27: "Arunachal Pradesh is facing challenges of quality education in the higher education institutions (HEI), particularly in technical and management education," said Education Minister Honchun Ngandam during the inaugural session of a workshop on 'Best practices in HEIs for quality management in Arunachal Pradesh' at a city-based hotel on Tuesday.
Addressing vice-chancellors of private universities, college principals, and others, the minister said "quality cannot be imparted, it should be by design."
"In the era of globalization," he said, "the challenges for quality education is an opportunity to formulate robust education," and called for changes in the stakeholders' mindset to bring about quality education.
"Quality in technical education is an indication of the quality of society and its economic growth," Ngandam said. He called for a holistic approach to designing the education systems of academic organizations.
The minister also stressed on research and capacity-building to achieve excellence in higher education.
Terming the workshop an important platform, Bangalore-based National Assessment & Accreditation Council (NAAC) advisor Dr MS Shyamasundar said, "NAAC reviews the institutional quality procedures on a regular basis in order to safeguard the quality of HEIs. Besides qualitative and quantitative evaluation and extensive use of data, surveys on students' satisfaction are also conducted while granting accreditation," he said, and sought cooperation from all to improve the standard of education in the state.
Informing that the state has 56 HEIs, Education Secretary Madhu Rani Teotia said "we must ensure quality in each HEI."
Higher Education Director Dr Tayek Talom highlighted the status of the HEIs in the state.
Earlier, RUSA Deputy State Project Director Minto Ete made a PowerPoint presentation on the growth of HEIs in the state. He informed that NAAC accreditation has been made mandatory for all HEIs to ensure quality education.
Ete also informed that the union human resources development ministry has directed the states to ensure that all the HEIs are accredited by 2022.