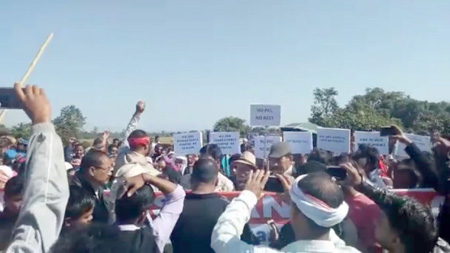 Staff Reporter
LEKANG, Nov 27: Demanding permanent resident certificates (PRC) from the state government, several organisations under the banner of the Indigenous People of Lekang have imposed a 48-hour bandh in Lekang circle of Namsai district.
The organisations are the United Indigenous People Forum of Lekang (UIPFL), the United People Movement of Lekang, the All Lekang Youth Association and other community-based organisations, supported by the All Assam Students' Union, the All Moran Students' Union, the All Tai Ahom Yuva Parishad, the All Motok Students' Union, the All Adivasi Students' Union, and others.
The bandh affected normal life in the Dirak gate, Shantipur gate, Sunpura and Bordumsa gate areas. However, the first day (Tuesday) of the bandh passed off peacefully and no untoward incident was reported, Namsai DSP S Perme said.
Hundreds of people gathered at the Dirak gate, shouting slogans against Deputy Chief Minister Chowna Mein, and yelling "No PRC, no rest!"
"For decades we have been living in this land, but we are deprived of PRC. We are demanding our basic rights," UIPFL president Priyadhar Khattiya Deori said.
"Earlier, we did not require PRCs. It started in 1995, after army and other central jobs started asking for PRCs," Deori said.
In a memorandum they submitted to the Lekang EAC, the organisations sought to know from the state government why it was unable to take a decision on issuing PRCs to "the indigenous people of Lekang and other parts of Namsai who are being deprived since many years."
They questioned the indecision over issuing PRCs despite the formation of committees such as the cabinet sub-committee and the joint high-power committee (JHPC) since 2008. The organisations accused the government of making false promises to the indigenous Deori, Mishing, Kachari, Moran, Ahom and Adivasi people of Lekang.
They also demanded to know why the JHPC failed to keep its commitment to submit its report by October 2018.
"The state government must issue PRCs on the basis of 'rules' like family dossier and cut-off year," the organisations demanded.
"The indigenous people of Lekang circle being unable to wait for further delay for the decision, the government should issue PRCs before the model code of conduct comes into effect," they said.