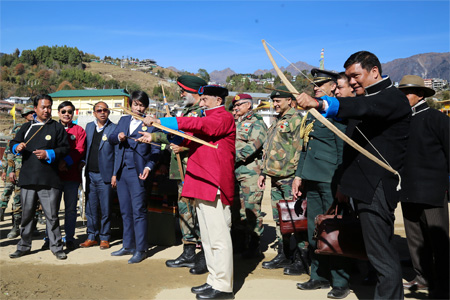 10th Tawang Maitree Diwas
ITANAGAR, Nov 28: Chief Minister Pema Khandu has said Arunachal has huge potential for growth but is deprived of foreign funding from international financial institutions due to objection from China.
He said this while addressing the 10th Tawang Maitree Diwas- festival of friendship and bonhomie between the Indian Army and citizens on Nov 28.
Pema said that Arunachal is the lone state facing such fund blockade taking toll in its economy – but can be overcome by taking advantage of huge presence of Indian Armed Forces and central paramilitary forces in the state.
He said Arunachal has presence of more than 2 lakhs military personnel and paramilitary forces, giving huge market potential for selling local produce and goods.
He informed that in his upcoming visit to New Delhi, he will meet with Defence and Home Ministries to work out a medium for the armed forces to buy locally.
This will enable the local farmers and businessmen to find huge market within Arunachal and also overcome the middlemen menace in selling their produce, the chief minister said
He said the bonhomie shared by the Indian Army and the locals in Tawang is exemplary and must be emulated elsewhere in the state too.
He credited the Indian Army including the central paramilitary forces for making major contribution in making Tawang as the global tourist hotspot besides efforts from the state govt and the central govt.
Governor acknowledges civilian-army rapport
Governor B.D. Mishra while inaugurating festival said that Tawang Maitree Diwas has laid a strong foundation in building good relationship between the armed forces and the civilian population. Impressed by the cultural and martial display by the armed forces personnel and cultural presentation by the school and college students, the Governor complimented the Army and District administration for the magnificent show put up by them. Such joint efforts promote sense of security amongst the civil population and also reinforce the trust between the people and security forces, the Governor said.
Appreciating the State Government under the Chief Minister Pema Khandu for conducting 'Sarkar Aap Ke Dwar', the Governor said that State Government is trying its best to address the challenges of the people. The Governor assured the people of Tawang to pursue the issue of Tawang-Lumla- Guwahati road through Bhutan with the concerned minister for the welfare of the people of Tawang.
The festival which is in its tenth year was started by former CM late Dorjee Khandu in 2004 from Gyangkhar village to celebrate the Army-Citizen friendship.
From next year onwards, the Festival will be organised officially by the State Government and National and international tourist will be invited to participate in it.