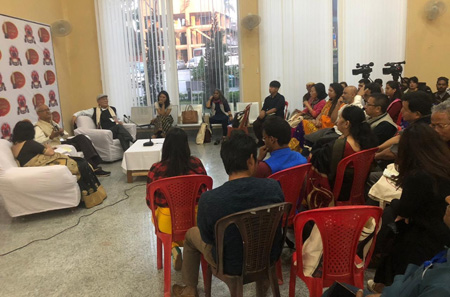 Staff Reporter
ITANAGAR, Nov 28: Arunachal Literature Fest 2018 has begun at Dorjee Khandu Convention Centre on Wednesday. The award winning and eminent writers Mamang Dai and YD Thongchi led the hosts to welcome fellow writers from other parts of India.
Attending the inaugural event, RWD and IPR Minister Bamang Felix declared that the Arunachal Lit Fest would be a calendar event from next year. He hoped that the literature festival will bridge the various forms of literatures of the state with mainstream literatures adding that it would enlighten the society and encourage reading culture among the youth.
The minister further said "Literature for me is the foundation of humanity's cultures, beliefs and traditions. It serves reflection of reality, a product of art and a window to an ideology".
Felix outlined the significance of literature in preserving culture and history. "Everything that happen in the society can be written, recorded in and learned from a piece from of literature".
"Life manifested in the form of literature. Without literature life ceases to exist. It is an embodiment of words based on human tragedies, desires and feelings. It cultivates wonders, inspires a generation and feeds information", he said.
He added that literature can be an instrument of revolution. Political turmoil, societal injustice, and genocidal conquest can all be ended and resolved in the form of literature.
"A writer can be a warrior with his words as his weapon. Not all revolutions have to be fought in blood" Felix stated.
Chief Secretary Satya Gopal said that "there is a huge scope of development of tribal literature in our state. Unfortunately due to absence of indigenous scripts of several tribes, many important aspects of our history, rich culture and tradition have not been recorded".
The Chief Secretary said that there is dire need to preserve indigenous tribal culture and tradition through literature which presently is limited to oral traditions. He said that there is a high probability of missing out some of the key values and messages in this process of oral transmission from one generation to the next.
Speaking on the occasion, Mamang Dai expressed joy at the initiative of the State Government in providing a platform to the budding writers and poets to interact with renowned writers and poets from across the country. She wished for a permanent platform for such interactions and discourse to hone young brains and encourage development of literature in the state. She also dealt in length about the rich culture and tradition of the state.
Special Secretary IPR Himanshu Gupta expressed his gratitude to all the participants for making the event a grand success.
The 1st technical session was chaired by YD Thongchi with Yater Nyokir, Dr. Fameline Marak, T.T Lepcha and Karma Choki as Panelist on the topic 'Literature from the North East' wherein Lepcha, Bhutia, Garo and the Arunachal literature were discussed in detail.
The 2nd technical session was chaired by Dhruba Hazarika and Damodar Mauzo, Mridula Garg, Ravi Singh and Nilim Kumar as Panelists on the topic, New Earths: Imagining Future Enclosure and Commons. The panelists unanimously agreed on the point that language should be left free and allowed to prosper. After each technical session, the house was open for questionnaires and discussions.
Later in the evening, an informal discussion was held which included conversations between Mitra Phukan, Damodar Mauzo, Y.D.Thongchi in the first session and Srutimala Duara, Mamang Dai and Dhruba Hazarika in the second session followed by book signing sessions.
The Arunachal Literature festival is an initiative of the department of IPR to create awareness on importance of literature in and throw light on eminent writers and poets including emerging writers. The event will facilitate interface between local authors and prominent authors. Renowned publishers like Penguin, Lawyers Book Store Guwahati, the Department of Research, GoAP has also put up book exhibition. (with inputs from DIPRO).