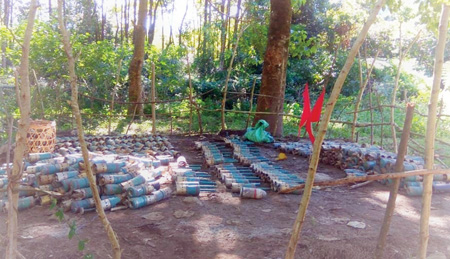 KOHIMA, Nov 30: Following the recent killing of three children in a blast caused by live bomb at Anjaw district, the Indian army and district administration has swung into action in order to recover the ammunition shells from the villagers.
Recently, three children were killed in Nara Tidding Firing Range, Chirang village under Anjaw district when the children picked up the used shell and began playing with it.
"The local Army units and the civil administration of Anjaw District took the initiative to request the villagers to deposit the fired shells. This call of the Army and civil administrative was met with immediate positive response from the people who deposited large quantities of shells.
554 shells were thereafter destroyed by the Army at Nara Tidding Field Firing Range on 28 and 29 November," stated army in a release. They further informed that exercise is still ongoing and Army is going from house to house requesting the villagers in possession of the fired shells to return them.
Further army stated that despite warnings, the local villagers, over the years, have been recovering fired ammunition shells from the firing range. "The Nara Tidding Firing Range is used by the Army, ITBP and other security agencies to carry out field firing. The range has number of villages in vicinity," they added.