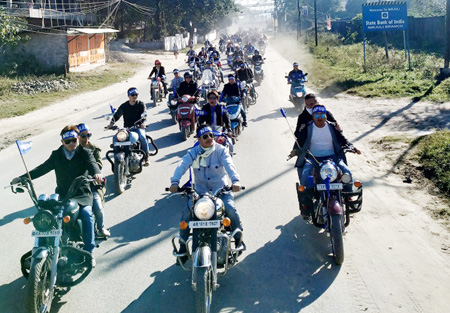 ITANAGAR, Nov 30: The All Arunachal Pradesh Students' Union (AAPSU), on Thursday took out a massive bike rally from Nikum Niya hall Nirjuli to Tennis Court IG Park here echoing with the North East Students' Organization (NESO) led Northeast-wide agitation movement seeking scrapping of the 'proposed Citizenship Amendment Bill, 2016.'
The NESO is an umbrella organization of several student bodies of the North Eastern region, which has been rigidly fighting for the removal of this controversial bill ever since its introduction in 2016.
NESO Coordinator Pritam Bhai Sonam told reporters here that they are not against any religion or community, but the refugees who are seeking a permanent settlement through this bill.
"This bill is a threat upon the indigenous people of Arunachal as well as the entire North-eastern region. If it is not scrapped, the NE region will burn in agitation and we are all prepared to resort to any kinds of democratic movements to resist this bill," he said.
Station that their opposition to the Bill will continue, AAPSU President Hawa Bagang called upon the state government and the chief minister to take their stand against the bill.
'Meghalaya and Mizoram governments have already resolved and announced to oppose this bill which is a very encouraging move and our government should follow suit," Bagang said, addressing hundreds of students here.
Meanwhile, AAPSU General Secretary Tobom Dai called upon all the public of the state to demonstrate their solidarity and loyalty towards their land by standing up against this 'anti-people' bill.
"North East is not a dumping zone for the refugees, the government at Center should know this. And, we will never back down and continue to fight to protect our land and our rights," Dai said.
Influential student organizations like, RGUSU, AEKDSU, GSU, ALSU, and others participated in the rally.