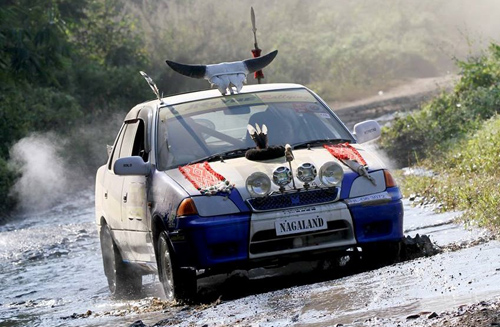 KOHIMA (Nagaland), Dec 1: The picturesque hills in Kohima will reverberate with the sounds of roaring cars as the JK Tyre Hornbill Motor Rally returns to the annual Hornbill Festival of Nagaland in a bigger and more exciting format.
The three-day event, beginning on Sunday, will see some of the country's top rallyists battle for honours.
The annual rally which is in its 9th year of existence has added the off-road challenge as well, which will take place on 4 December.
The exciting off-roading event making its debut in this iconic event will see top of the line drivers from the region as well as the country traversing through a course of 1.5 km negotiating six gruelling obstacles in their bid to be crowned champions.
Nagaland is also organizing a World War 2 peace rally to pay homage to its martyrs during the 'Battle of Kohima'. Family members of the heroes will be part of the rally as they will be taken on a parade in vintage cars and jeeps towards the cemetery.
All three events coincide with the famous Hornbill Festival of Nagaland, a seven-day extravaganza of cultural performances, ethnic food courts, handlooms and handicrafts bazaars, film and art festivals, fashion shows and a national rock contest.
"We are extremely delighted to be part of the Hornbill Motor Rally once again. JK Tyre has always been keen on tapping motorsport talents from every corner of the country. The Northeast has a number of motorsports enthusiasts and I am sure this year's competitions will be exciting," Sanjay Sharma, Head of JK Tyre & Motorsports, said.
The time, speed and distance (TSD) rally will be run over a distance of 55 kilometres, starting from the IG Stadium.
Day one will come to an end at the Kisama Heritage village. Day two will see the off-road challenge, while day three will be marked by the WW2 peace rally.