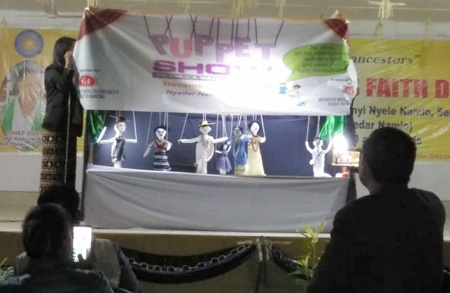 SEPPA, Dec 2: A string puppet show was organised to generate awareness on "family planning, child and maternal health" to reduce maternal deaths, child mortality, and to improve family planning on the occasion of Indigenous Faith Day celebration at Nyedar Namlo hall, on Saturday last.
The puppet show was organized by the Women Welfare Organization (WWO), East Kameng, in collaboration with the District Health Society, East Kameng.
The 15-20 minutes duration of puppet show in Nyishi language, created awareness on various Centrally Sponsored Schemes: Janani Suraksha Yojna (JSY), Janani Shisu Suraksha Karyakram (JSSK), Pradhan Mantri Surakshit (Matritva Abhiyan PMSMA). Awareness on Incentivization of Full Immunization (IFI), a State Sponsored Scheme, was also held.
"We are planning to conduct similar programme especially in rural areas of East Kameng district to spread awareness on health, education, and other social issues faced by women and girl child," informed Mone Singhi Taba, president, WWO East Kameng.
Having received a positive response from the audience, a delighted Mone further said that it wasn't an easy task to carry out the puppet show.
"Since our members lacked experience in puppetry, it took a great effort to bring things into line. We have received a positive response from the audience," she said while expressing gratitude to DHS for entrusting them with the job.
Thrizino-Buragaon MLA Kumsi Sidisow and Seppa West MLA Mama Natung attended the event among others.