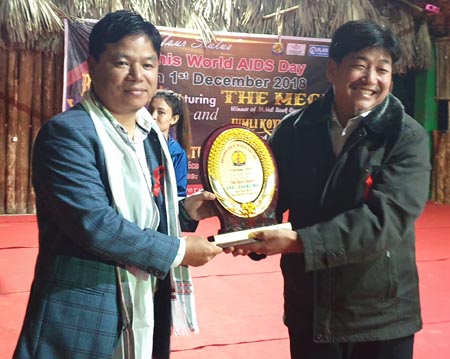 ITANAGAR, Dec 2: Arunachal Pradesh State AIDS Control Society in association with 'Being Arunachalee' an NGO organized an AIDS awareness Musical Concert at Eco Camp in Doimukh to mark the World AIDS Day on 1 December.
The winner of MMC Rock competition and Jomli Koyu from the 'Reloaded' enthralled the participants while giving awareness about HIV at the same time.
MLA Laisam Simai, while attending the programme, called on people to equip themselves with the knowledge about HIV for its prevention from further spread. He also asked people for voluntary testing in order to know their status.
While appreciating the role of APSACS in creating awareness about HIV in state, he asked everyone to extend voluntary support to APSACS in order to control and eliminate HIV from the state.
Family Welfare Joint Director, Dr. S Bhattacharjee spoke on the HIV preventive measures and also highlighted the services available with APSACS for HIV prevention and control in the state.
Project Director in-charge Dr. A Borang explained in details about the aims and objectives of the observation of World AIDS Day.
While focusing on the theme of this year's World AIDS Day 'know your status', Dr. Borang said that the HIV testing is essential for expanding treatment and ensuring that all people living with HIV can lead healthy and productive lives.
'Unfortunately, many barriers to HIV testing remain. Stigma and discrimination still deters people from taking an HIV test. Access to confidential HIV testing is still an issue of concern. Many people still only get tested after becoming ill and symptomatic,' he added.
'Being Arunachalee' President Kuku Ringu reaffirmed the NGO's commitment to work for the welfare of the people in the health and education sectors without any profit motive.
APSACS Dy. Director (IEC), Tashor Pali, in his speech, requested everyone to multiply the information about HIV/AIDS prevention so that people are benefitted out of it.