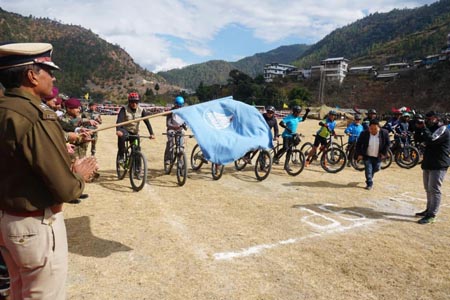 DIRANG, Dec 4: A 15-member trainee cyclists from the National Institute of Mountaineering and Allied Sports (NIMAS) have set off on a 15 days Mountain Terrain Biking (MTB) course and expedition to Bumla, Tawang on one December.
This is the NIMAS' maiden MTB course and first of its kind in the country.
The expedition cum training course was formally flagged off by Sports and Youth Affairs Minister Dr. Mohesh Chai and General Officer Commanding (GOC) of 4 Corps, Lt General GS Sangha at Rupa in West Kameng district on 3 December.
Led by Everester Col Sarfraz Singh, the riders will pedal through Bomdila, Dirang, Sela, Tawang into Bumla, which is located 15,000 ft above the sea level, covering a distance of around 250 km.
Ahondo Menjo, one of the finest MTB riders, and Rubi Lombo are among the four riders from Arunachal Pradesh.
The course will cover acclimatization procedures, high-altitude medicine, up hill as well as down hill biking maneuvering skills, bike repair and maintenance, river crossing with the bike and methodology of preparation for professional MTB competitions etc.
This will be the India's first certified course, and those who qualify will become MTB instructors.
Director of Youth Affairs DK Dinglow and other senior officers of the district were present during the flagging off ceremony.