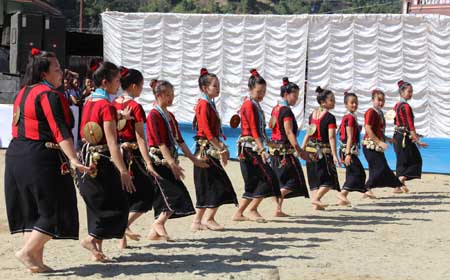 Staff Reporter
ITANAGAR, Dec 5: Podi-Barbi was celebrated with traditional fervour and gaiety at the Mopin-Solung ground here on Wednesday.
A harvest festival of the Adi tribe, hundreds of people from around the capital complex attended the celebration organized by the Podi- Barbi Celebration Committee Itanagar-2018.
Attending the celebration as chief guest, BJP state vice president Tame Phassang extended greetings to the Adi community and lauded it for its rich culture and tradition.
"One cannot find the zest of our rich culture and tradition on the internet or any other random source. It has to be inherited from our ancestors," said Phassang.
Asking people to be united for a strong and developed society, Phassang said that his doors were always open for everyone, irrespective of cast and creed.
Extending festival greetings, RWD Superintending Engineer Getom Borang also stressed on the preservation of culture and tradition. He also appealed to the youths of the community to uphold their traditions, while simultaneously moving along with the changing times.
He also elaborated on the mythology of Podi Barbi festival, and urged the gathering to maintain the sanctity of all such festivals.
Acknowledging the contributions of the Adis to the development of the state, Mechuka MLA PD Sona appealed to the community leaders to be torch bearer for others.
Alter and zazina ceremony, momen ponung, cultural presentations and community feast were also organized on the day.
Mainly celebrated by the Adis of Mechuka, Monigong and Tato, Podi-Barbi is an occasion to extend gratitude to deities and Mother Nature for prosperous and surplus production of crops.