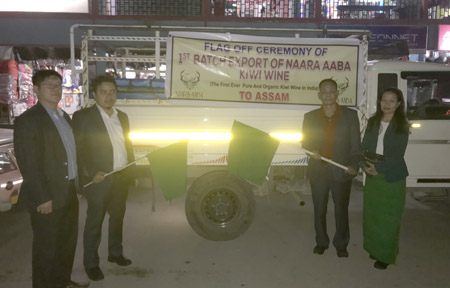 ITANAGAR, Dec 6: The first batch of the country's first organic kiwi wine, Naara Aaba, was dispatched to various parts of Assam.
"With this, Naara Aaba will be accessible to all wine lovers in Northeast India," said CMD of Lambu Subu Food & Beverages, Tage Rita, in a release.
She informed that the wine is produced entirely out of organically grown, hand-picked kiwis of Ziro valley. "The venture also provides youths of the area skills in wine making, besides providing a ready market for kiwi farmers," Rita added.
The first consignment was 'flagged off' by Tax & Excise Deputy Commissioner Pebom Bagra and State Horticulture Research Institute Director Igam Basar from the Akashdeep shopping complex here on Wednesday.