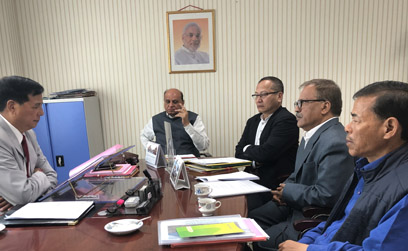 ITANAGAR, Dec 14: Power Minister Tamiyo Taga has asked the Power Grid Corporation of India Limited (PGCIL) to implement the provisions of the MoU it signed with the state government and take engineers from the state's power department on deputation, as mandated in the MoU.
Taga was addressing a meeting of stakeholders including the PGCIL's senior manager, the power chief engineers, the power SE (transmission) and others in his office here on Friday to discuss issues concerning the implementation of comprehensive schemes in the state.
It was decided in the meeting that the PGCIL would submit a list of projects against which forest and environmental clearance are yet to be obtained.
Expressing displeasure over the tardy pace of work being carried out by the PGCIL, Taga suggested that the government be allowed to implement the 33 kv and 11 kv systems in the state.