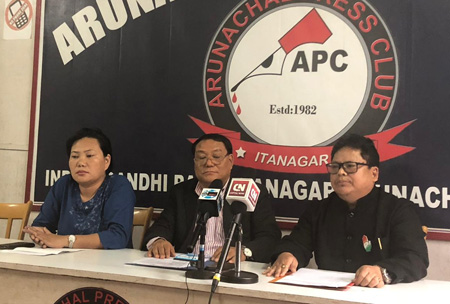 Staff Reporter
ITANAGAR, Dec 17: The Arunachal Pradesh Congress Committee (APCC) is preparing to lay out its roadmap for the assembly and Lok Sabha elections by holding an extended state executive meeting, titled 'sangharsh sammelan', at Rajiv Gandhi Bhavan here from 19 to 21 December.
The grand old party is also preparing its youth brigade by training them in handling social media to counter the BJP's online campaigns.
"The APCC is holding its sangharsh sammelan-cum-extended state executive meeting to focus on the failures of the BJP government at the centre and the state," sangharsh sammelan chairman and former minister Bosiram Siram told media persons at the press club here on Monday.
Siram informed that the meeting would partly be a social media awareness programme to train its workers and office bearers on effective use of social media.
"All the block level and frontal wing office bearers and district presidents, along with former MPs and party leaders will be invited to the sammelan," said Siram.
AICC Arunachal Pradesh in-charge Luizinho Falerio and AICC Arunachal Pradesh secretary in-charge Zenith Sangma will be among the attendees.
"We will prepare the party's roadmap for the next assembly and Lok Sabha elections, so that the party workers and office bearers can focus on areas that would help in bringing the party back in power," Siram said.
He informed that issues related to the failures of the BJP government on various fronts, such as agriculture, horticulture, roads and communication – "more importantly, the plight of farmers" – would also be discussed.
The Trans-Arunachal Highway compensation scam will also be a major point of discussion, he said.
"Health centres have inadequate medicine supplies, the education scenario is in a very bad shape, and this government has miserably failed," Siram said of the ruling BJP in the state.
Tali MLA and sangharsh sammelan vice chairman Markio Tado said the meeting would focus on the Congress party's strategies to bounce back to power in the next elections.
"We will be also focusing on the misdeeds of the BJP government in the state and at the centre," Tado said.
APCC spokesperson Toko Mina said the theme of the meeting would be "unity and struggling over the lies of the BJP, so that the people come to know about the BJP's misdeeds."
Mina clarified that the meeting is part of a scheduled programme and not related to the Congress' recent electoral victories in three mainland states.