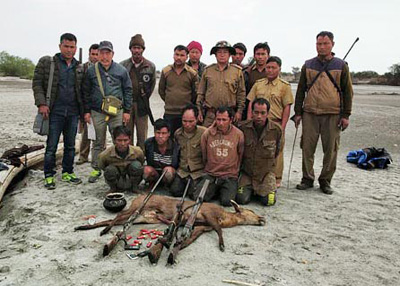 Correspondent
PASIGHAT, Jan 5: Wildlife officials on Friday nabbed five wildlife hunters from Daying Ering Memorial Wildlife Sanctuary in East Siang district.
The hunters, who were nabbed from the Sanyashi Tukura portion of the Anchalghat range of the sanctuary, have been identified as Dibash Pait (30) and Diganta Doley (25), both from Kemi village under Jonai police station in Assam, and Batsa Doley, Rajesh Chungkurang and Nong Doley of Oyan village under Sille-Oyan police station in East Siang district.
Dibash Pait and Nong Doley are habitual hunters, and had earlier been warned by the wildlife officials several times for their alleged involvement in wildlife hunting.
The officials seized a hunted female hog deer, one 12-bore double barrel and two single barrel guns along with 14 live cartridges, and three mobile handsets from their procession.
The team of officials, led by Jeepghat Beat Officer Orin Perme, launched the operation on Friday after receiving
input about hunters entering into the sanctuary. The hunters reportedly entered into the sanctuary on Thursday evening through the Jampani side of the Anchalghat range.
"After tracing the movement of the hunters, our foresters surrounded them, and waited till the next morning. The officials resorted to blank firing to make the hunters surrender," said Pasighat Divisional Forest Officer (Wildlife) Tasang Taga.
The officials urged the district administration to cancel the arms licence of all three 12-bore gun holders.
The nabbed hunters have been handed over to the Oyan police station, where case(s) have been registered against them under the Wildlife Protection Act.