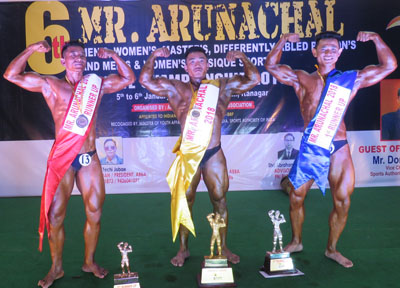 ITANAGAR, Jan 7: Nabam Abo (75 kg) won the Mr Arunachal title at the 6th State Bodybuilding Championship held at Banquet Hall here on Sunday night.
Satyajit Tayeng (70 kg) and Nabam Tayu (65 kg) secured the second and third position, respectively.
The event featured competitions in five categories, and the winners in those categories competed for the 'champion of champions' title.
Jawani Ekru and Bijoy Sarkar were the winners in the 55 kg and 60 kg weight category, respectively.
The title in the differently-abled category was won by Techi Sono. Tirtha Tamang won the title in the Masters category.
Championship was also held for men's and women's sports physique. Raj Rabha and Hilang Yajik were the winners in men's and women's category, respectively.
Sports Authority of Arunachal Vice Chairman Doni Nich, who attended the event, said that unlike earlier times, parents today do not discourage their children from playing sports.
"In earlier times, there was a misconception that playing sports could hamper the children's education. But the silver lining is, today's parents encourage their children in games and sports," Nich said.
He encouraged children to play sports along with their regular studies.
The SAA vice chairman enumerated the various sportsperson-friendly programmes and policies of the state government, including job reservation for meritorious sportspersons (including bodybuilders).
Later, he gave away the trophies and prizes to the winners, the runners-up and the first runners-up.
Arunachal Bodybuilding Association (ABBA) president Techi Jaboe briefed about the sport of bodybuilding in Arunachal.
He said the performers would have the opportunity to participate in the national bodybuilding championship to be held in the current month.
The ABBA president also highlighted some dos and don'ts for new bodybuilders.
ABBA adviser Abraham K Techi highlighted the contribution of bodybuilding towards creating a healthy society.