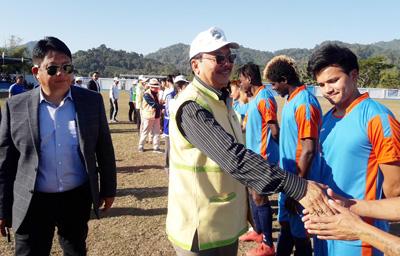 Mein assures to name an education institute after Tako Dabi
[ Prafulla Kaman ]
NARI, Jan 7: Deputy Chief Minister (DCM) Chowna Mein assured the people here that an educational institute will be named after former minister Tako Dabi.
Mein, who attended the inaugural function of the Tako Dabi Memorial Football Tournament 2019 here in Lower Siang district on Monday, also assured to take steps for upgrading Daying Ering Stadium here.
Addressing a huge gathering of public and football lovers at Daying Ering Stadium, Mein recalled the contributions of Dabi in expediting the developmental process of the state.
"He was a vocal leader of the frontier state who gave acceleration to development of the state's infrastructure and other sectors," Mein said.
The DCM said Dabi had played a vital role in maintaining good relations with neighboring Assam. "His contributions to the society on various fronts will always be remembered and also be a source of inspiration for the younger generations," he said.
Responding to a memorandum submitted by the Lower Siang District Football Association for upgrading the stadium and developing the CHC here, Mein assured to forward the proposal to the ministers concerned for processing.
He said the issue was earlier raised in the state assembly by MLA Likha Saaya and state BJP president Tapir Gao.
MLAs Kento Rina, Kardo Nyigyor and Kaling Moyong and BJP leader Kanyir Ringu commended the organizers for conducting the tournament in Dabi's memory.
Former Nari-Seren ZPM and Dabi's brother, Kanyom Dabi, sought cooperation from all sections of the society in making the event a success.
The Cigo Bage Ao Kebang (CBAK) of Lower Siang also submitted a memorandum to the DCM, urging the state government to conduct the sport event in memory of Tako Dabi on the magnitude of Hangpan Dada and Tadar Tang memorial football tournaments.
The opening match was played between CABK and East Siang, wherein the former defeated the latter 2-1.
Nigerian signing Eliva Sylia scored the first goal for CABK in the first half, which was equalized by East Siang a few minutes from the start of the second half.
CABK won the match with the help of an own goal by the East Siang goalkeeper.
Seven football teams, including three from Lower Siang district, are participating in the tournament.
A host of political leaders and government officials attended the inaugural function.