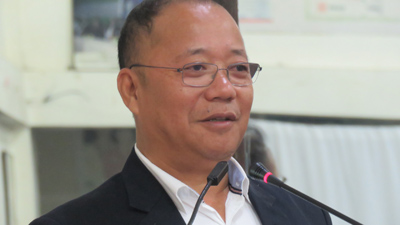 Staff Reporter
NAHARLAGUN, Jan 9: Arunachal Karate Do Association (AKA) president Likha Tara has been elected as the president of Karate Association of India (KAI) in New Delhi on Tuesday.
He was presently holding the post of vice president of the association (KAI).
He is the first from North East to be elected as the president of KAI, and also became the first from Arunachal Pradesh to head any national level sports association.
A state gold medal recipient in 2005, Tara, black belt 7 DAN, had served as police officer from 1982 to 2003. He was also the Karate instructor of Police Training Centre (PTC), Banderdewa from 1989-1998, and had served as vice chairman of Sports Authority of Arunachal from 2012 to 2015.
Tara, the founder of AKA, has been working silently for the promotion and development of Karate in Arunachal Pradesh since last 38 years along with his team of dedicated officials.
The state has produced many a national and international level karate players under his guidance, and the state has become a force to reckon with in karate in North East and the country as well.
Meanwhile, the sports fraternity of the state, led by AKA on Wednesday accorded a rousing welcome to Tara on his return from New Delhi after winning the election.
They offered bouquets and congratulated him on his election as president of KAI.
Arunachal Olympic Association (AOA) secretary general Abraham K Techi and businessman Likha Maj were also present on the occasion.
Both Abraham and Maj described Tara's election as KAI president as great achievement for a state like Arunachal Pradesh.
They exuded the confidence that Karate in Arunachal Pradesh will scale new height under his leadership.
AKA general secretary Bulang Marik, vice president Yarda Niki, AOA legal advisor Nabam Lera, Arunachal Shoto-Kan Karate Federation of India (NSKFI) president Tai Hipik, AKA technical director S Deben Sharma, senior instructors and karate players were present on the occasion.
Tara was appointed twice as technical committee member in the 33rd and 34th National Games held in Assam and Jharkhand.
He was also the Team India Coach for the 7th World Cup of Junior and Cadet Karate Maiaka, Malaysia (201L), Senior World Karate Championship, Austria (2016), 4th Nihon Shoto-Kan Karate Federation (NSKF)- Asian Karate-do Championship, Sri Lanka, 12th AKF Senior & 13th Junior & Cadet, Championship, Dubai, UAE (2013), 9th World Karate Federation, Junior, Cadet & U-21 Years Championship, Indonesia (2015).
He was also appointed as officials of the WKF World Senior Karate Championship, Madrid, Spain (2018), and is the first person from Arunachal Pradesh to participate in the Karate Training Camp in Japan (2000).
Meanwhile, Tara thanked all, especially Chief Minister Pema Khandu, Union Minister Kiren Rijiju and ADGP/ Special Commissioner of Police in Delhi Robin Hibu for their cooperation and extending help in the time of need.