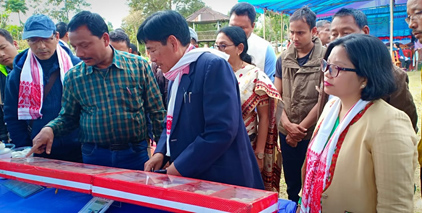 [ Prafulla Kaman ]
SILLE-OYAN, Jan 9: The Central Silk Board (CSB) under the Union Ministry of Textile, in collaboration with the state's Textile & Handicraft department organized a day-long 'Resham Krishi Mela' cum exhibition at the Sille sericulture farm in East Siang district on Wednesday.
Sericulture Assistant Director Opun Jamoh Dai said the Textiles & Handicraft department of the state government has prepared a five-year plan for rearing mulberry, eri and muga silks in feasible areas of the state.
Dai asked the farmers to take up sericulture on commercial basis under the guidance of experts, adding that funding for sericulture farm maintenance is a component of the Chief Minister Sashakt Kisan Yojana, a flagship scheme of the state government.
"Sericulture generates income with low cost, which gives three-to four times yield in a year. It is the best option to bring stray youths to the mainstream for
their economic sustenance," Dai advocated.
Scientists from Central Muga, Eri Research & Training Institute, Lahdoigarh (Assam), including its Director Dr Ranjana Das, explained to the farmers about rearing and maintenance of silk worms, such as mulberry, eri and muga. They also responded to various queries raised by the silkworm rearers.
Pasighat Additional Deputy Commissioner Tatdo Borang, in his address, suggested the farmers to adopt sericulture activities for economic self reliance. He requested the CSB officials to extend the project activities to all potential districts in the state and encouraged rural farmers to bring a green revolution in the region through massive sericulture activity.
Officials informed that CSB has been implementing 'Integrated Bivoltine Sericulture Development Project' covering mulberry project in East Siang district and about 700 acres has been brought under cultivation so far.
There is budgetary estimate of Rs 230 crore for Northeast states, including Arunachal Pradesh to run a three-year sericulture project.
The scientists have recommended S-1635 high yielding mulberry plant for rearing silk breed SK-6, SK-7 and B-coccon-2 for the state, suitable for the culture.
The silk produces and machines used for processing of silk yarn and food plants of silk worms were also displayed in the exhibition stalls.
About 100 silk rearers from East Siang districts attended the Resham Krishi mela.