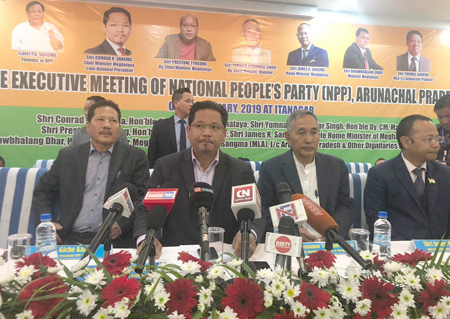 Staff Reporter
ITANAGAR, Jan 11: Meghalaya Chief Minister and National People's Party (NPP) president Conrad Sangma on Friday said the party would go it alone in the forthcoming assembly election in Arunachal Pradesh, and that it is keen to contest all the 24 seats in the Lok Sabha (LS).
Briefing media persons ahead of the NPP's state executive meeting here, Sangma informed that the party would try to pitch as many candidates as possible in the assembly and LS elections.
"In Arunachal Pradesh we intend to work towards ensuring that we win as many seats as possible, and try to put up as many candidates as we can. I can tell you, the response we are getting from the people is tremendous," Sangma said.
"A lot of people have expressed support to the NPP. You will be seeing many candidates," he said.
"Not only in the assembly, the NPP is keen to contest all the 24 seats in the Lok Sabha in different states of the Northeast," he added. "That's the only way to ensure that our voice is heard."
Speaking on the objectives of the state executive meeting, he said, "A very important agenda of our meeting is to plan out and strategize how the NPP will work in this coming assembly election in Arunachal Pradesh."
"It is to gear up our youths, our women wings, our controlled organizations and our committees in different blocks and the districts to ensure that we start working more aggressively towards the assembly election in the state," he said.
Sangma said other important issues that would be discussed in the meeting are education, including the SSA teachers' issue, health, agriculture, and social issues of importance to the Northeast.
Representatives from various states of the region are attending the meeting, including Manipur Deputy CM Yumnam Joy Kumar Singh and Meghalaya Home Minister James K Sangma, besides Arunachal NPP legislature party leader Tanga Byaling and others.
The NPP is part of the BJP-led Northeast Democratic Alliance.
On the controversial Citizenship (Amendment) Bill 2016, Sangma made it clear that the NPP would continue to oppose the bill, even though the party is in alliance with the BJP.