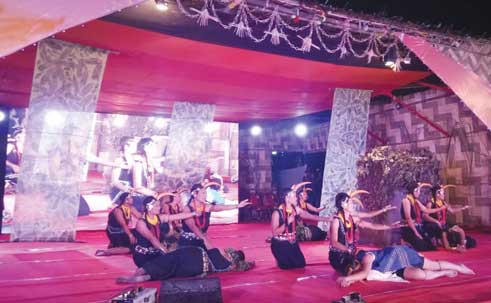 [Devathi Parashuram]
SEIJOSA, Jan 18: The Pakke Paga Hornbill Festival (PPHF), a unique festival celebrating nature, wildlife conservation and Nyishi culture, is on in full swing here in Pakke-Kessang district.
The highlight of the cultural programme last evening was a dance-theatre performance titled Ngo Modi Isi (My Mountain and River) by women of Darlong village. The entire performance was conceptualized and choreographed by Sangeeta Isvaran, an international performer and social worker. Isvaran uses traditional dance and contemporary technique, enabling a wide audience to enjoy it.
Ngo Modi Isi is based on the life story of a Great Hornbill pair, with love and loss as the central themes. Hornbills pair for life and are therefore a symbol of eternal love. In March, the female enters the nest and seals the cavity with her droppings, leaving only a small opening through which the male feeds her and the chick for four months.
What happens if the male is killed? We explore this scenario in the performance with Nyolo Toki, an old and hauntingly beautiful Nyishi song. It is an emotional song that describes one woman's search for her husband who has gone hunting in the forest but does not return for many days. The song evokes descriptions of nature and her immense grief at finding his lifeless corpse deep inside the forest.
Similarly, in Ngo Modi Isi, after the male is shot by a hunter, the female hornbill has to break out of the nest to search for him all over the forest, while the chick starves to death in the nest. She finally finds him dead on the forest floor.
There is one thing that hornbills and the song Nyolo Toki have in common – they both face the threat of extinction.
Hornbills are majestic birds and a natural heritage of Arunachal, but their populations are increasingly threatened by hunting and deforestation. Nyolo Toki is a priceless oral heritage of the state, which is now sung by only a handful of elders and might be lost forever if it is not passed down to the next generation. The main aim of the performance Ngo Modi Isi is to drive home this point. Hornbills can only survive if hunting stops and if our forests are protected from destruction. And rare folksongs can only survive if the younger generations learn to sing and value them.
To witness nature conservation and culture coming together, attend the rest of the Pakke Paga Hornbill Festival on 19 and 20 January.
The Ngo Modi Isi performance was coordinated by the Nature Conservation Foundation (NCF), with support from the state forest department and the organising committee of Pakke Paga Hornbill Festival, and partially funded by the Whitley Segré Conservation Fund. Look out for the video of Nyolo Toki sung by Mema Tok, a Nyishi woman from A2 village, Seijosa, which will be released by the NCF later this year.