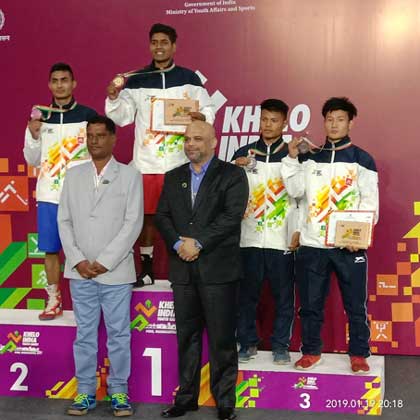 ITANAGAR, Jan 20: Arunachal Pradesh bagged 14 medals – six silver and eight bronze – to finish 27th in the Khelo India Youth Games.
The second edition of the 11-day Games, which concluded in Pune, Maharashtra, on Sunday, was participated in by 29 states and seven union territories.
Arunachal bagged the highest nine medals in weightlifting, four in judo, and one in boxing.
The medal winning lifters (girls) are Christina Tayeng (silver, U-21), Anai Wangsu (silver, U-17), Techi Nadam (bronze, U-21), PH Roshni (bronze, U-21), Liza Kamsha (bronze, U-21), Sandiya Gungli (bronze, U-17), (boys) Charu Pesi (silver, U-17), Markio Tario (silver, U-17), and Golom Tinku (bronze, U-17), informed Assistant Sports Director Karbia Dodum.
While Kabi Doyom and Kabin Doyom bagged a silver medal each in judo in the girls' U-17 and U-21 year categories, Madin Hina and Khomdan Wanghop won judo bronze each in the boys' U-21 and U-17 categories.
The lone boxing bronze was won by Kipa Parang in the boys' U-21 year and 52 kg class.
The archers, athletes, shuttlers and wrestlers returned home empty-handed from the Games.