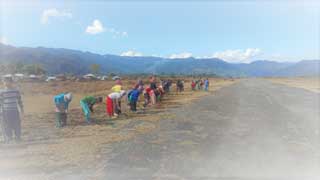 VIJAYNAGAR, Jan 20: The Indian Air Force (IAF) has taken up repair work on the advanced landing ground (ALG) here in Changlang district, which remains closed to fixed-wing aircraft since 2016.
According to Kohima-based defence spokesman Col C Konwer, a specialized team has already started the repair work, and materials required are being airlifted.
The repair work includes cleaning of the runway surface, where grass and moss have accumulated over the years, the spokesman informed in a release.
Col Konwer said people from 11 villages of the area are assisting the IAF in the repairing activities.
Vijayanagar is the remotest circle of Changlang district, and the place is still not connected with a motorable road.