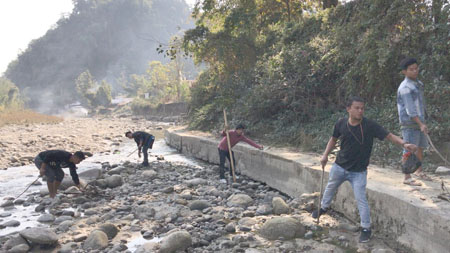 Staff Reporter
KIMIN, Jan 25: The first phase of the 'Clean and green Kimin' campaign, initiated by the sub-divisional administration here in Papum Pare district, started on Friday with cleanliness programmes held across Kimin.
All the colonies, schools, government establishments and the market area were cleaned, along with the Khud river.
SDO Likha Tejji said the river was cleaned "to create awareness on keeping the river clean."
"The river is almost dying, and the administration will make efforts to clear it of sewage from the town and from the septic tanks," he said.
The volunteers also cleared the Boda lake.
Members of the All Kimin Youth Welfare Association, along with government employees led by the SDO, gaon burahs, members of the interim panchayat committee, and others took part in the cleaning campaign.
Public leader Tai Tayu later organised a lunch for all the 500 plus volunteers in appreciation of their hard work.