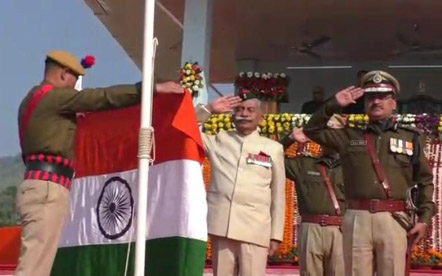 Staff Reporter
ITANAGAR, Jan 27: In a freak incident, the national tricolour fell off the flagpole when Governor BD Mishra was hoisting the national flag during the Republic Day celebration at IG Park here on 26 January.
The flag's khadi rope snapped when the governor seemingly tugged at it hard. However, Mishra maintained his composure and instructed his ADC and the flag keeper to hold up the flag for the ceremonial salute.
Embarrassed by the incident, Chief Secretary Satya Gopal has ordered an inquiry into it, with Power Commissioner GS Meena as the inquiry officer.
"The flag rope was found broken and the flagpole crashed into the ground, which caused great embarrassment to the governor and his government, besides inflicting insult on the national flag," the CS stated in the inquiry order.
The pole however had not fallen on the ground .
The police department which is led by DGP SBK Singh has suspended the head constable, Taje Maying, after the R-Day celebration, even that it seemed like purely an accident.
Head Constable Maying, a native of Taliha circle in Upper Subansiri district, has been serving in the Arunachal Pradesh Police since 1994. He is currently posted at the police training centre in Banderdewa.
Sources informed The Arunachal Times that the flag hoisting ceremony team had already rehearsed with the flag rope in the morning, which had passed off well.
According to the prescribed protocol, it is the responsibility of the district administration to provide the flag and rope to the ceremonial team. DGP Singh did not respond to queries from this daily as to why the head constable was being victimized over an accident.
Meanwhile, a similar incident was reported in Longding, where the national flag reportedly almost fell to the ground when local MLA Thangwang Wangham was hoisting the flag. The flag also reportedly turned upside down later. A similar incident was also reported in Bordumsa in Changlang district.