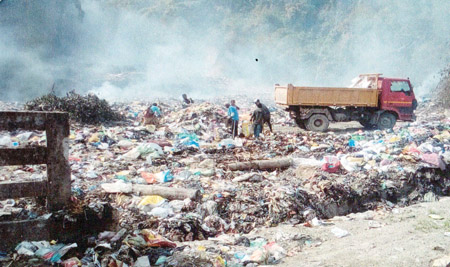 ITANAGAR, Feb 1: The Banderdewa Karsingsa Youth Welfare Association in a representation to the governor on Friday sought his attention towards the problems being faced by the residents of the area near the garbage dumping ground at Block Point in Karsingsa due to large-scale pollution.
The association said that, despite repeated complaints to the authorities since last year regarding the shifting of the dumping site, there has been no response from their end, and demanded that the dump site be shifted.
"The said dumping site is illegal and against the norms of the Solid Waste Management Rules 2016. It is hardly five metres from NH-415, which is against the rules which states that a dumping ground should be 500 metres from the national highway," the association said.
"Sometimes garbage is dumped on the road itself. There is no protection wall or fence, due to which domestic animals consume plastic and die. Moreover, the burning of garbage at the dumping site may adversely affect the health of the nearby villagers," it added.
The association threatened to launch a democratic movement on 7 February if their demand is not met.