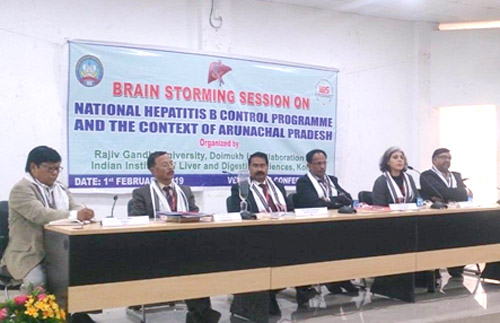 RONO HILLS, Feb 2: A brainstorming session on the 'National Hepatitis B Control Programme and the context of Arunachal Pradesh', organised by Rajiv Gandhi University (RGU) in collaboration with Kolkata (WB)-based Indian Institute of Liver and Digestive Sciences, was held at the university here on Friday.
Inaugurated by RGU Vice Chancellor Prof Saket Kushwaha, the session was aimed at activating the Hepatitis B control programme in the state, as well as research on the subject.
It was disclosed during the session that Arunachal Pradesh bears the highest viral hepatitis burden in the country. The participants sought cooperation from all stakeholders to combat the situation with utmost urgency.
Among others, Kolkata-based Institute of Post Graduate Medical Education & Research's hepatology department head, Dr Abhijit Chowdhury, National Programme Officer from the World Health Organization, New Delhi, Dr Vimlesh Purohit, TRIHMS Director Dr Moji Jini, State Epidemiologist Dr L Jampa and TRIHMS Chief Medical Superintendent Dr H Ambing participated in the session.
Dr Koshy C George, director of Tezpur (Assam)-based Baptist Christian Hospital, along with his team of researchers highlighted the threatening burden of viral hepatitis in the region.
Agreeing that the epidemiological database on viral hepatitis in Arunachal is still fragmentary, the experts invited contributions from researchers to unveil the real status of its epidemiological features.