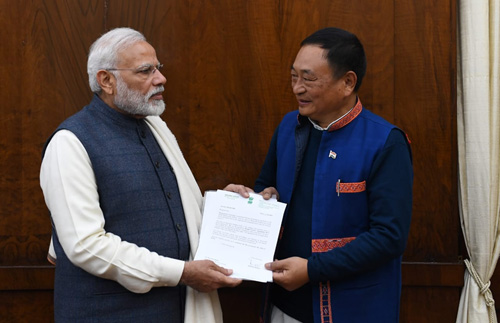 NEW DELHI, Feb 6: Arunachal East MP Ninong Ering on Wednesday met Prime Minister Narendra Modi and registered his protest against the Citizenship Amendment Bill (CAB).
Ering informed the PM that the CAB has created unrest and ruckus in the Northeastern part of India.
"Even my state of Arunachal Pradesh has clearly shown dissatisfaction on the proposed Bill and people have come out strongly against it," the MP added.
Arunachal Pradesh has been facing the critical issue of Chakmas and Hajongs for the last 30 years, Ering said, adding "the Citizenship Amendment Bill will further ignite the issue and create unforeseen administrative complexities."
The MP also apprised the prime minister of the issue of the Siang River and submitted a detailed research report on 'Formalization of the National Policy of Silt Management in Indian Rivers' in context of the Siang River, stated an official release.
The Arunachal Pradesh Congress Committee (APCC) is set to hold a peaceful demonstration cum protest rally against the Citizenship Amendment Bill on the day of the prime minister's scheduled visit to the state capital on 9 February at the tennis court here in IG Park, and has appealed to like-minded organisations and individuals to participate in the rally. The Bill has already been passed by the Lok Sabha and is likely to come up in Rajya Sabha next week.