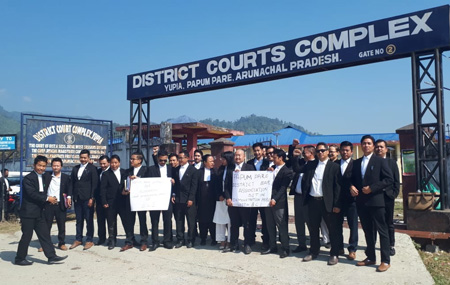 NAHARLAGUN, Feb 12: Members of the Gauhati High Court Itanagar Permanent Bench Bar Council Association, led by its general secretary Marto Kato, took out a protest march here on Tuesday to press their demand for budgetary allocations for the welfare of the lawyers.
The Papum Pare District Bar Association also held a protest march in support of the demand.
The protest marches were organized as per the resolution adopted by the Bar Council of India (BCI) on 2 February.
The demands raised by the lawyers include insurance cover for lawyers and their families and dependents, financial assistance to young lawyers, financial protection to lawyers and their dependents in case of untimely death or incapacitation, housing scheme, amendment of the Legal Service Authority Act, and amendment of all the acts for the appointment of retired judges as presiding officers in various tribunals and commissions.
The BCI also said all the bar associations of the country should have chambers, adequate buildings, sitting facilities with internet service, well-equipped libraries/e-libraries, etc, besides separate sitting and toilet facilities for lady advocates.