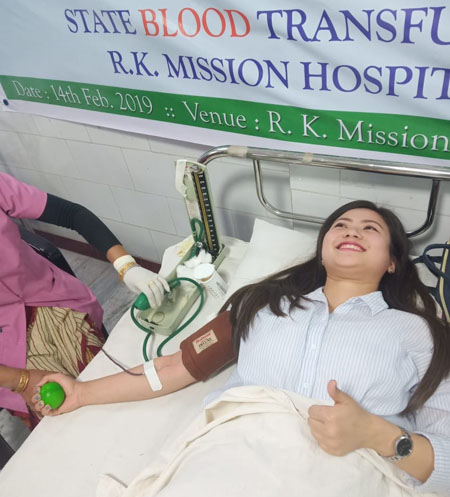 [ Prafulla Kaman ]
PASIGHAT, Feb 14: Over 50 students of the College of Horticulture & Forestry along with local youths donated blood during a voluntary blood donation camp organised by NGO AYANG at the general hospital here in East Siang district on Thursday to mark Valentine's Day.
Attending the camp, Health Services Joint Director (Training & Research) Dr D Ronya commended the NGO's initiative and expressed hope that the drive would help many lives.
AYANG chairperson Aini Talo supervised the camp.
In Itanagar, the Arunachal Voluntary Blood Donor Organisation (AVBDO) conducted its fourth voluntary blood donation camp on the occasion of Valentine's Day at RK Mission hospital on Thursday.
AVBDO chairman Ramesh Jeke said the purpose of the drive was "to unite Arunachalees," and encouraged people to donate blood regularly.
"The demand for blood is higher than its supply, and there is a lack of voluntary blood donors," he said.
Twenty-nine units of blood were collected from 50 registered donors, most of them females.
Arunachal Pradesh Youth Congress (APYC) president Geli Ete and APYC general secretary Yala Mada, along with AVYS chief advisor Pradeep Kumar Behera and TRIHMS blood bank officer Dr Phassang Sona also attended the programme.