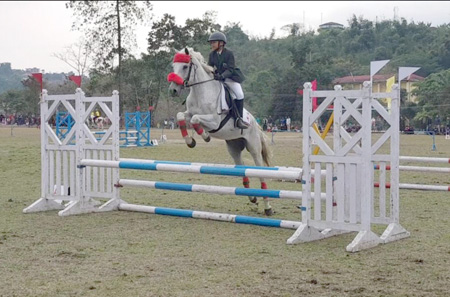 Staff Reporter
CHIMPU, Feb 19: Arunachal Pradesh is hosting its first horse-riding show and regional equestrian meet, as part of the 33rd Statehood Day celebration, at the 1st AAP battalion ground here.
The first day of the three-day event, organized by the Arunachal Pradesh Equestrian Association (APEA), also featured a tent-pegging display aimed at promoting equestrian sport in the state.
Students as young as 10 years from Tezpur (Assam)-based Assam Valley School also participated in show jumping competitions in different categories and captivated the spectators.
In the show jumping Children I category, Lakhan Mittal came in at first place with his horse Corleone. Karan Ngatay Bam and Yuvraj Surekha tied for the second place, while Keshav Mour took the fourth place.
Anikaith A Joshi came first in the show jumping Children II category with his equine Pickpocket, while Prashuk Jain came in at second place.
The key participants in the event are the NCC, the Assam Police, the Lohitpur ITBP, the Assam Rifles, the Indian Army's 3 Corps and 4 Corps, the Equestrian Federation of Assam, and Assam Valley School.
A total of 119 riders and 38 horses are performing in the three-day event.
Attending the inaugural event, Deputy CM Chowna Mein urged the APEA to take forward the sport "as the state has a wide scope for adventure sports and such sports have the potential to attract tourists."
He commended the participants for coming to the state. He congratulated the organizers, and assured support from the state government in introducing the sport.
Chief Secretary Satya Gopal said the first ever equestrian meet and the foundation of the APEA "marks the beginning of a new chapter in the history of the state."
"This meet shall serve as a platform to kindle the interest of the youths towards equestrian sport and horse-riding. To encourage participants, the chief minister and the deputy chief minister have decided to give away medals in the top three categories, and honorariums to all the participating teams," Gopal said.
He also remembered the martyrs of the Pulwama attack.
Briefing about the event, Capital Complex Deputy Commissioner Prince Dhawan said that "with the beginning of the event, the state will now witness the growth of the equestrian sport in the state."
The jury members of the event are retired brigadier KS Rao from the Remount and Veterinary Corps, retired IPS officers S Ramakrishna and BK Dey, and ITBP Commandant (Veterinary) Dr Tekchand.