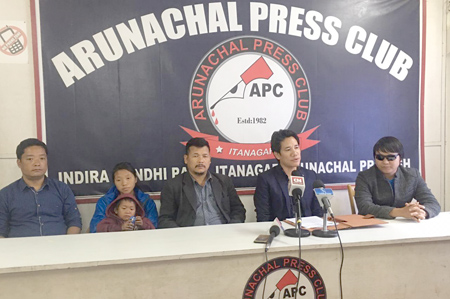 Staff Reporter
ITANAGAR, Mar 2: The family of Risso Tari on Saturday demanded handing over the police or paramilitary person responsible for Tari's death to the family members before 9 March, in order to punish the official "as per the Nyishi customary law."
Tari died in the firing that occurred during the recent anti-PRC agitation in Itanagar.
Addressing reporters at the press club here, Tari's older brother, Risso Kiagung, said the family "does not want the compensation of Rs 20 lakhs and government job as announced by the state government."
"We never sought compensation and we are not going to accept it," he said.
Kiagung said it is the Risso Welfare Society's (RWS) demand that the Chief Minister Pema Khandu-led government and
student organisations including the Arunachal Law Students' Union (ALSU), the Nyishi Ethnic Students' Association (NESA) and the All Papum Pare District Students' Union (APPDSU) produce the police or paramilitary person who shot Tari within the week or the RWS would launch a democratic movement.
On whether it is applicable to impose the customary practice, Tari's brother-in-law, Khyoda Ajing, said the police acted beyond their jurisdiction and broke the law of the land.
"With no other option, we are also going back to our customary law. The Nyishi customary law says tooth for tooth, nail for nail. And it is definitely for revenge purpose. We are only demanding that the state government and the bandh callers produce the person who has killed our brother, so that we can punish them as per the customary law," Ajing said.
"The police personnel could have defused the protestors through other mechanisms, like air shots, tear gas, water cannon, etc, without taking the life of an innocent man. But in this case, the police and the district administration willfully did not opt for those methods," Kiagung said.
The RWS also urged organisations not to interfere in the matter, and lamented that no one from the government or the bandh-calling organisations came to meet the family.
Questioning the 48-hour bandh announced earlier by the ALSU, the NESA and the APPDSU, Kiagung said, "You called for a 48-hour bandh instead of calling bandhs in phases. Your bandh was illegal and unorganized, which resulted in a leaderless protest and caused my brother's death."
Also holding those who were in charge on the day responsible for Tari's death, Kiagung said if Home Minister Kumar Waii says he did not issue firing orders or call for extra forces then those who were in charge that day must have.
"If the home minister is clueless about it, then those who were in charge that day, such as the CM, the deputy CM, the chief secretary and the deputy commissioner, should be held responsible," he said.
Kiagung urged the people not to give a political colour to the situation, and said the family would fight for justice.