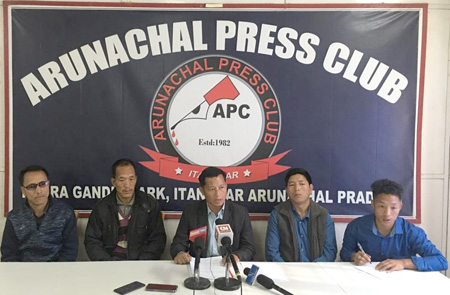 Staff Reporter
ITANAGAR, Mar 3: The Biki Welfare Society (BWS) has demanded that the state government institute an investigation team comprising a retired high court judge and arrest the main perpetrator of the shootout that took place near the circuit house here that led to the death of Biki Ruja.
Ruja died in the firing that occurred during the recent anti-PRC agitation in Itanagar on 24 February.
The BWS demanded that the Pema Khandu-led state government, the Arunachal Law Students' Union (ALSU), the Nyishi Ethnic Students' Association (NESA) and the All Papum Pare District Students' Union (APPDSU) hand over the police person responsible for the death of Ruja by 9 March, saying it would otherwise resort to a democratic movement.
Addressing reporters at the press club here on Sunday, BWS president Biki Tamo said "the police person involved in the shooting should be handed over to the family, so that action can be taken as per the customary rules and norms."
He said the Biki family has not asked for any compensation and will not discuss the compensation till its demand is fulfilled.
The state government had earlier announced ex gratia of Rs 20 lakhs and a government job to the family of the deceased.
Tamo said if the ALSU, the NESA and the APPDSU had called bandhs in phases, the situation could have been avoided.
"We have lost three brothers of the state because of the direct 48-hour bandh," he said.
BWS information & publicity secretary Biki Langre said the BWS seeks "smouldering the entire (PRC) file recommended by the joint high power committee (JHPC) in front of the general mass."
He also said the BWS seeks the resignation of Chief Minister Pema Khandu, Deputy CM Chowna Mein, and cabinet minister and JHPC chairman Nabam Rebia, "besides investigation of the person(s) behind the war-mongering phase of the state, and termination of the capital deputy commissioner and superintendent of police."
Ruja's elder brother, Biki Tallum, said the government should have withdrawn the PRC issue before the bandh call to avert the situation.
"This is not an incident or an accident but a murder," he said.
The Biki family and the BWS also lamented that no one from the government has come to meet them.