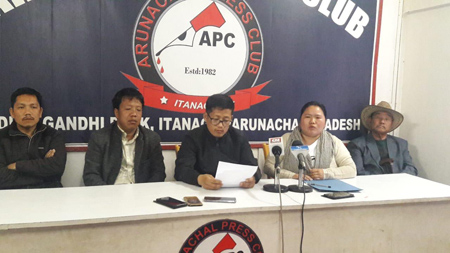 Staff Reporter
ITANAGAR, Mar 4: The family of Tsering Wangdi, who died in police firing during the anti-PRC agitation, has refused to accept the compensation announced by the state government unless the police person who fatally shot Wangdi is punished as per the law of the land.
Wangdi died in the firing that took place near the circuit house here on 24 February.
Addressing reporters at the press club on Monday, after having completed the last rites of her husband in Bomdila, Wangdi's widow, Jyoti Kamda, informed that Wangdi had joined the crowd only after it reached the deputy chief minister's private residence.
Kamda, who is in the first trimester of her pregnancy, said they saw a large crowd nearby while they were returning from church.
"We saw several women, some carrying their children, joining the rally. That's when my husband decided it was not right to sit around when everyone else was protesting against PRC, and left the house without it coming to my notice.
"I spoke to him on the phone and he informed that they were near Bank Tinali, and that everything was fine. But I received a call soon after, informing that he had been shot. I thought he must have got shot on the leg, and rushed out with a relative on a scooter to find him. We managed to reach Itafort amid all the firing; then we rushed to Heema Hospital to search for him. They said he was in RK Mission Hospital (RKMH) in Ganga. We rushed there somehow, and couldn't find him there either. I went back to Heema Hospital, and my husband was there amid the chaos.
He had been shot but there was no blood dripping from his wound, nor was his shirt bloodied. The doctors there said he couldn't be saved," Kamda said, holding back tears. "The compensation amount and job are useless when my husband is no more."
The family also informed that Wangdi's body was taken to the Tomo Riba Institute of Health & Medical Sciences for postmortem, but since it was late at night, the body was taken to the morgue in RKMH.
However, the family members said, when they reached RKMH on the morning of 25 February, they were told that Wangdi's body had been transported to the Lakhimpur (Assam) general hospital on the night of 24 February for postmortem, without prior information to the family.
Wangdi's body was handed over to the family after postmortem on 26 February, and was rushed to Bomdila for the last rites, which lasted up to nearly a week.
Wangdi's father-in-law, Tachik Kamda, also expressed sorrow at the death of his son-in-law, and asked why firing orders were given in a peaceful state like Arunachal.
"He was a son to me, and money can't bring anyone back," he said.
A native of Namshu village in West Kameng district, Wangdi had lost his parents, but leaves behind four sisters.
Earlier, the family extended condolences to the families of Risso Tari and Biki Ruja.