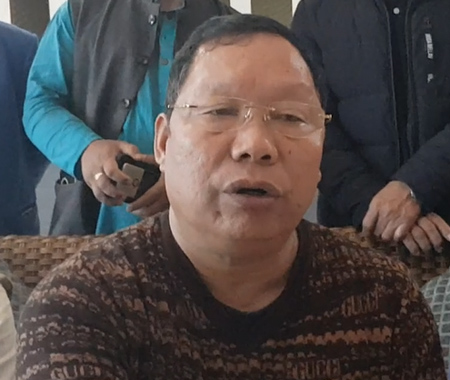 Staff Reporter
ITANAGAR, Mar 5: The opposition parties here have constituted an 'all-party coordination committee' to press for the resignation of Chief Minister Pema Khandu over the violence which occurred during the anti-PRC agitation in which three people were killed and many were injured in the capital complex.
This was informed by Arunachal Pradesh Congress Committee (APCC) president Takam Sanjoy on Tuesday, right after a Congress-sponsored all-party meeting concluded in a city hotel here. The meeting had been chaired by former chief minister and Janata Dal (Secular) NE in-charge, Gegong Apang.
The meeting had also been attended by National Peoples' Party legislature leader Tanga Byaling and People's Party of Arunachal (PPA) president Kahfa Bengia.
Informing that a 12-15 member delegation of all the parties will meet the governor soon and give a timeframe for the CM's ouster, Sanjoy said, "He must resign. When the CM resigns, everybody is out. If you (Khandu) do not give in your resignation, we will start a movement. The governor has to dismiss him or all the opposition parties will start a democratic movement and bring a thousand people on the streets."
The delegation, he said, will also raise the matter of declaring the three men who died during the anti-PRC agitation as martyrs.
Sanjoy also took a hit at Minister of State Kiren Rijiju, saying "even though he is MoS for Home, he sent the army and paramilitary forces here."
"Bringing the armed forces and killing people, and then announcing compensation shows that the government does not understand the sentiments of the people," the APCC president said.
On whether the Congress was going to form a mass alliance with the other parties in the state, Sanjoy said political talk was limited during the meeting.
He also said that the BJP had been invited to the meeting but it did not come.
On the all-party meeting which had been called earlier by the ruling government, Sanjoy asked why the BJP had called a meeting after people had died.
"We will only attend a meeting called by the governor of the state," he added.
Congress Legislature Party leader Takam Pario, Congress MLA Markio Tado, PPA secretary-general Kaling Jerang and JD(S) general secretary Token Duggon also attended the meeting.