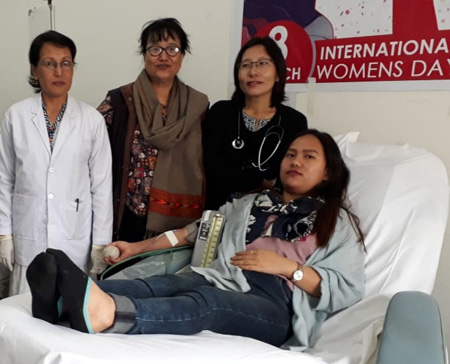 Staff Reporter
NAHARLAGUN, Mar 8: An all women voluntary blood donation camp was jointly organized by 'AYANG' a voluntary blood donation organisation in collaboration with the Capital Complex district administration at Tomo Riba Institute of Health and Medical Sciences (TRIHMS) Blood Bank, here on Friday to mark the International Women's Day celebrations.
'AYANG' chairperson, Aini Taloh, a state gold medallist and a dedicated blood donor who has till date organised numerous blood camps in the state informed that many had turned up for the camp.
"In all, 13 units of blood were collected during the camp and of the thirteen, nine donors were girls while eight were deferred because of blood pressure problems besides, low weight and haemoglobin issues," she added.
Explaining the motto behind organizing the camp, Aini said, "I always insist that women can also donate blood and today being International Women's Day what could be more fitting tribute to our womenfolk than to organize a blood donation camp especially for them. There is a myth that women can't donate blood when they are menstruating because donating blood would make them weak. Of course, there are certain parameters for blood donation which have to be kept in mind but overall I think everyone especially, women should donate blood every once in a while."
The 56-year-old lady has been donating blood after every three months and has till now donated blood 23 times.
She further said she plans to conduct more such camps in future and take it to the national level by encouraging more and more youths about the benefits of blood donation.
Itanagar Capital Complex Deputy Commissioner, Prince Dhawan said, "the day should be celebrated in its truest sense and blood donation being such a noble cause that too, for the first time an all women blood donation camp would actually give meaning to the occasion, he said.
While explaining about the myths surrounding blood donation, TRIHMS blood bank officer, Dr. Passang Sona said that blood donation is healthy and the blood loss can be regained within a day.
However, we do insist that the donor must be physically fit and does not have low haemoglobin levels.