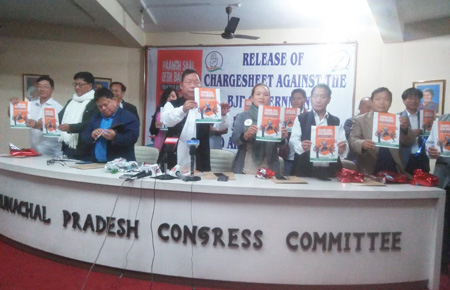 Staff Reporter
ITANAGAR, Mar 8: The Arunachal Pradesh Congress Committee (APCC) President Takam Sanjoy during a press interaction here on Friday released political chargesheets against Narendra Modi led BJP government at centre and Pema Khandu led BJP government in the state. The APCC has accused BJP governments both in centre and state of neglecting the major infrastructure project in the state.
Sanjoy claimed that though foundation stone for Hollongi green field airport was laid by Prime Minister Narendra Modi recently, the project is yet to be sanctioned by the government of India.
"Rs 175 crore was paid as land compensation from the state exchequer so that PM could lay the foundation of airport. So far this project has been cleared only by the public investment board (PIB). From PIB the file goes to PMO and from there to various branches of finance departments. But after some day's people will get busy with election and fate of airport project will hang in balance. People of state should ask PM Modi and Chief Minister Pema Khandu to tell truth of Hollongi airport project," Sanjoy said.
Further, he alleged that fund for infrastructure development of National Institute of Technology (NIT) at its permanent campus at Jote has been stopped by the BJP government.
"The work started in big way at Jote during the UPA era. But as soon as BJP came to power at centre they stopped the funding leading to complete halt of work. Unfortunately NIT is being forced to function from its temporary campus at Yupia even after seven years," he stated.
The APCC president also alleged that due to corruption in distribution of land compensation the majority of work under Trans Arunachal Highway has not achieved desire success.
"In Lower Subansiri and Kamle districts large scale corruption was reported. Some people received compensation money even without owning any properties along the proposed highway. Due to tacit understanding between state government, centre and district administration few people were benefited and genuine land owners and farmers bypassed," stated APCC President.
Sanjoy also alleged state government of failing to grant Patkai and Mon autonomous councils.
"Though both Chief Minister Pema Khandu and MoS Home Kiren Rijiju are from Mon region but they have failed to fulfill genuine demand of the people of two regions. They are completely silent on this issue," Sanjoy added.
The APCC also raised the issue of killing of three youths in anti-PRC agitation, deteriorating law and order situation in state, fiasco surrounding Arunachal Pradesh Public Service Commission, cash for vote scam in municipal and health departments, high level corruption in various projects & schemes, forceful construction of BJP office at IG park, non repeal of Arunachal Pradesh freedom of religion Act 1978, failure to hand over Tawang firing incident to CBI, income tax raids on local businessmen, nonfunctioning of democratic institutions like Municipal and Panchayat in the state.
The Congress also released 18 point political charge sheet against Narendra Modi led BJP government at centre. Some of them are introduction of citizenship amendment bill, demonetization, alleged Rafael scam, mismanagement of Indian economy, growing religious intolerance against minority communities and dictate on food habits, promise of Rs 15 lakh to every Indians, non-waiving of farm loans, attack on institutions like RBI, CBI, election commission, promise of 2 crore jobs annually to the youths, atrocities on Dalits, Adivasis & minorities, etc.