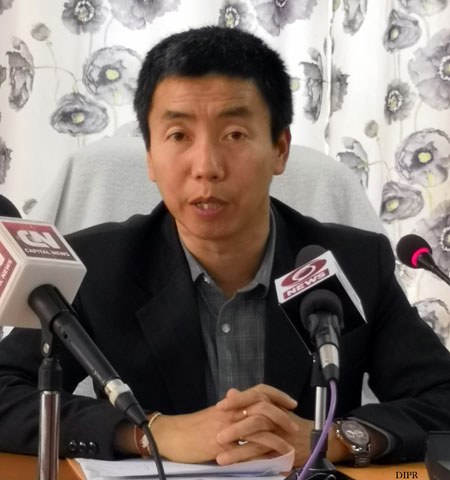 West Arunachal 'expenditure sensitive'
Staff Reporter
ITANAGAR, Mar 11: Chief Electoral Officer (CEO) Kaling Tayeng stated that the state election commission is fully geared to organize the Lok Sabha and assembly elections simultaneously in the state.
Addressing a press meet here at the Nirvachan Bhawan on Monday, the CEO informed that with the announcement of poll dates, the model code of conduct (MCC) has come into effect and necessary instructions have been passed to district electoral officers (DEO) and the police to ensure its proper implementation.
"All unauthorized political advertisements in the form of wall writings, posters or papers of defacement in any form, cutouts or hoardings, banners, flags etc on public property, like railway station, roadways, electric or telephone poles etc are being removed. The flying squad and static team have also been activated and they will keep an eye on carrying of illegal cash and IMFL," said CEO Tayeng.
He also informed that the commission has appointed secretary level officer NT Glow as the election expenditure in-charge of the state.
"This time, a joint director officer of the IT department from Guwahati will also be part of the monitoring team on expenditure. The officer is arriving in the state in the next few days," the CEO said.
Further, the CEO informed that constituencies like Yachuli, Kalaktang, Dirang, Doimukh, Itanagar, Daporijo, along with all the constituencies of East Kameng and Kurung Kumey districts have been identified as 'expenditure sensitive.'
He added that none of the assembly constituencies from eastern Arunachal have been identified as expenditure sensitive.
For polling stations located in remote areas or in areas accessible only by foot, the commission will install cameras to prohibit proxy voting.
"Over the years, we have been receiving complaints from remote assembly constituencies, especially from districts like Kurung Kumey and East Kameng, about large scale proxy voting. The instillation of cameras will be a step towards ending such illegal practices," said the CEO.
Regarding various development-related activities, the CEO said that the DEOs have been instructed to obtain details of works which have already begun and also the list of fresh work which are yet to begin on ground to ensure that MCC guidelines are not violated.
"There shall be no bar to the release of payments for the completed works subject to the full satisfaction of the concerned officials. Schemes that have been cleared and funds provided or released and materials procured and reached the site, may be executed as per the programme," he added.
The commission has also provided platforms to the citizens to lodge their complaints.
"Citizens can make calls to the voter's helpline number 1950 for any complaint or query. Through mobile apps like cVigil, voters can also upload complaints with photographs or videos, and action will be taken and completed in 100 minutes. They can download the app from the Google Playstore," the CEO added.