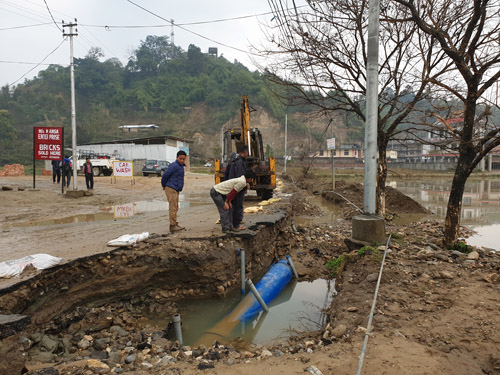 Staff Reporter
ITANAGAR, Mar 12: Several areas of Itanagar are facing acute shortage of drinking water supply due to damage caused to Poma water supply pipeline here at Gohpur.
The pipes have been damaged by earthmover engaged for construction of drains along the Itanagar to Jote road by Itanagar Municipal Council (IMC). The officials of PHED on Tuesday visited the damaged site and started the restoration work.
The Itanagar division PHED Assistant Engineer Debia Padang informed that restoration work is going on in full swing and assured that by Wednesday afternoon the water supply will resume provided there is no further rainfall. The local residents of the township have been facing torrid time due to lack of drinking water supply. The worst hits are colleges, schools, hospitals and government institutions.
Meanwhile, the construction of drainage in haphazard manner has exposes lack of coordination between officials of PHED, IMC and PWD.
"The IMC officials should have properly coordinated with PHED and PWD before the start of work.
Their erratic work has caused damage to water supply pipeline causing much trouble to the citizens. The damage has been caused to Itanagar – Jote road near the Gohpur area," said an official.