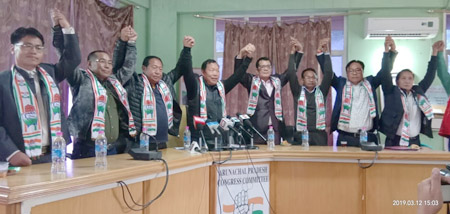 Staff Reporter
ITANAGAR, Mar 12: Nacho MLA Tanga Byaling who has hopped trice in a span of five years has rejoined the Indian National Congress (INC), along with former Khonsa west MLA Yumsem Matey here on Tuesday.
Rudham Sindhu from Taliha, Dr Chow Kedar Gohain from Namsai and Ngonglin Boi from Namsang also joined the Congress on the occasion.
Addressing reporters here at the Rajiv Gandhi Bhawan, Byaling said he is "happy to be back in the family."
Clarifying on his frequent change of parties, the former home minister said, "It was the nature of politics. We have to keep in mind the wishes of our workers and supporters as well, which is why I had last joined the National Peoples' Party."
The five-time MLA also said that he did not consider joining the Bharatiya Janata Party, as its "ideologies" do not match with his.
Byaling had won the 2014 election on the INC ticket and later merged en masse with his cabinet colleagues to the Peoples' Party of Arunachal (PPA).
Byaling, who had held the rural development and panchayat raj portfolios under the Khandu-led government, was dropped from the cabinet along with Rajesh Tacho and Takam Pario in January 2017.
He then went on to join the NPP, along with six other MLAs of the PPA in July last year, and was the party leader.
State Congress chief Takam Sanjoy welcomed the new members and was hopeful that they, along with their supporters would work for the growth of the party.