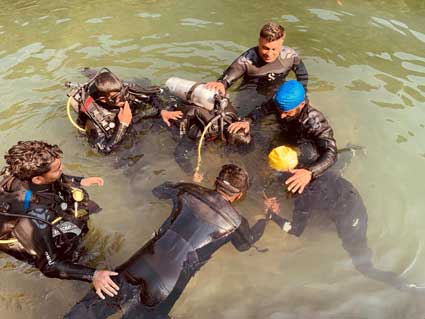 Staff Reporter
DIRANG, Mar 16: The National Institute of Mountaineering and Allied Sports (NIMAS) here in West Kameng district conducted its first basic course in scuba diving in Meghalaya from four to 15 March.
The course was conducted in Dawki River in West Jayantia Hills district of Meghalaya.
The 16-member first two batch trainees include army personnel, NCC cadets and officer, a senior women lawyer, members from Indian Mountaineering Federation and students from North East, including one from Arunachal Pradesh.
The training course included 200 to 300 meter freestyle aided and un-aided swimming, buoyancy tips and tricks with weight belts, a series of tests-both underwater and shore-to tests their presence of mind under pressure.
The trainees were first taken to the swimming pool at Shillong for their confined dives, where they familiarized themselves with the basics of Scuba, equipments, handling and its use.
The second phase of the course was conducted at Dawki, where they were asked to dive in open water with depth ranging from eight to 18 meters.
The students, who got 'A' grading in Advance Scuba course will be eligible for High Altitude Scuba Diving course, which will be conducted in Arunachal's lakes.
The practical sessions were followed by theory classes and knowledge reviews to keep them well versed with the procedures and under water emergency situations.
Instructors from NIMAS conducted the training under the guidance of NIMAS Director NIMAS Col Sarfraz Singh.