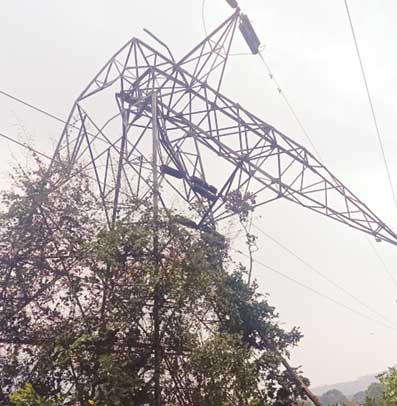 Staff Reporter
ITANAGAR, Mar 16: A cyclonic storm has swept across eight districts in the state leaving a trail of devastation.
The storm in Tirbin area on Friday evening caused heavy damage to a 132 kv power transmission line tower (no 166) near Bam check gate in Leparada district, disrupting power supply to eight districts.
The affected districts are Leparada, Lower Siang, West Siang, Siang, East Siang, Lower Dibang Valley, Lohit and Namsai, informed Superintending Engineer (E) TK Tara.
The extent of damage is so high that it will take at least a week's time to restore power supply through the transmission line from Hoj power house of Ranganadi Hydro Electric Project, the release said.
The EE, however, said that power supply to those affected districts is likely to be restored on or before 23 March.
He appealed to the consumers to bear with the inconvenience.
A cyclonic storm on Saturday afternoon left a trail of devastation in several villages of Mebo circle of East Siang district, damaging houses, standing crops, electrical poles and granaries.
Reportedly, the storm has badly affected Aohali village, besides some adjoining parts.
The storm not only destroyed standing crops but also uprooted trees and bamboos, resulting in a blockaded of road for a couple of hours.
Roofs of many houses were blown away, while uprooted trees damaged houses of several others.
With many electrical poles and transmission lines damaged, staffers from the electrical department are working on war footing to restore them.
Circle Officer Kabang Apum rushed to the spot and took stock of the situation on the same day. There are no reports of casualties, the CO informed.