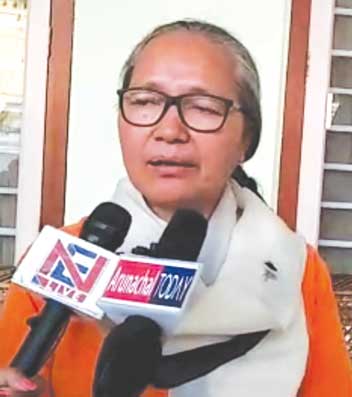 Staff Reporter
ITANAGAR, Mar 16: Jarjum Ete has resigned from the Indian National Congress (INC) following the denial of Congress ticket from Arunachal West Parliamentary seat.
Former Chief Minister Nabam Tuki is reported to be the INC candidate for the West seat to take on Kiren Rijiju.
Jarjum who was the All India Mahila Congress general secretary, in her resignation letter to APCC president Takam Sanjoy wrote that "the prevailing confusion regarding finalization of party ticket makes it very evident that the INC team is not in coordination to fight the parliamentary election to wrest the seat from the incumbent BJP MP."
Leaders of three different political parties have reached out to Jarjum seeking her acceptance to be their candidate for the West Parliamentary seat.
Speaking to this daily, Jarjum said that she would accept the offer of a party which keeps in mind the best interest of the state.
Jarjum, who has spent more than 15 years with the Congress, further said that the state Congress has always sidelined her right from the beginning.
Jarjum said that she was forced to resign from the party as she has been denied nomination even though she had amply made her clear intention to stand for the election last year itself.
Her resignation has been accepted.