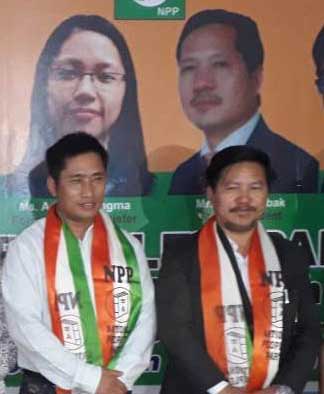 Tayeng to contest from Cong; Waii expected to join soon
ITANAGAR, Mar 18: Several sitting MLAs that did not figure in the party ticket list of the BJP have shifted their loyalties to contest in the ensuing assembly election.
National People's Party (NPP) vice president and spokesperson Nima Sange Saling informed that sitting MLAs Pani Taram (Koloriang, Kurung Kumey), Paknga Bage (Dumporijo, Upper Subansiri) and Thangwang Wangham (Longding-Pumao, Longding), joined the party in an event at its state office here on Monday.
Further, Saling informed that several top-ranked political leaders and elected leaders of state are also expected to join the party on Tuesday.
"The party will be fielding a good number of candidates for the simultaneous election," he said.
NPP national president and Meghalaya Chief Minister Conrad K Sangma is also arriving in the state and the final tally would be announced on the occasion, Saling added.
Further, incumbent MLA of Mebo constituency Lombo Tayeng will contest the ensuing assembly poll on the Congress ticket.
The adviser to the chief minister took the decision after he was denied the MLA ticket by the state BJP committee, Tayeng informed.
Four-time MLA from Mebo and a minister for two terms, Tayeng was elected (unopposed) as Congress MLA in the last assembly poll. He had later joined the BJP en mass with his cabinet colleagues.
He alleged that state BJP president Tapir Gao and other BJP bigwigs have humiliated him, and that "the party would suffer the consequences."
In the meantime, Tayeng has applied to the Arunachal Pradesh Congress Committee and is confident of receiving a party ticket.
Former Home Minister Kumar Waii is also expected to join the Congress party after he was denied the BJP ticket to the assembly elections.
While he did not divulge on the details of reasons leading to his exit from the BJP or his next political move to this daily, Waii said he would address the media on Tuesday and answer all queries.
However, Waii had earlier told The Hindu that "Chief Minister Pema Khandu played a part in the BJP denying him a party ticket in the upcoming Assembly election in the state because Khandu saw him as a contender for the chief minister's job."
Waii had won thrice from the Bameng assembly constituency since the 2004 state polls.
Waii and Tourism Minister Jarkar Gamlin were the two sitting ministers to be dropped from the list of 54 candidates announced by the party on Sunday.
Nine sitting MLAs were also dropped as per the first list.