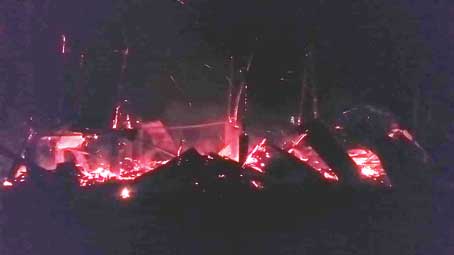 Staff Reporter
SEPPA, Mar 18: Three children were charred to death when a fire broke out at Weshi-II village (11 kms from Seppa) under Pakoti circle of East Kameng district on Sunday.
The children have been identified as Bongali Tallang (6 years), Laxmi Tallang (3 years) and Mariam Tallang (1 year), police sources informed.
Reportedly, the accident occurred at around 7 PM when their father Logu Tallang left the children at one Nyime Weshi's house, who was also not in his house at the time.
Logu went out to another neighbour's house keeping the children unattended at Weshi's house, police informed.
Their mother was also at Seppa during the time of incident.
The fire caught attention of the neighbours only after almost half of the house was engulfed in a ravaging fire. The neighbours could not save the children trapped inside the house and all belongings were reduced to ashes, police sources informed.
The fire brigade and team of police soon went to the village to assess the damage.
The cause of the fire is yet to be ascertained, police added.