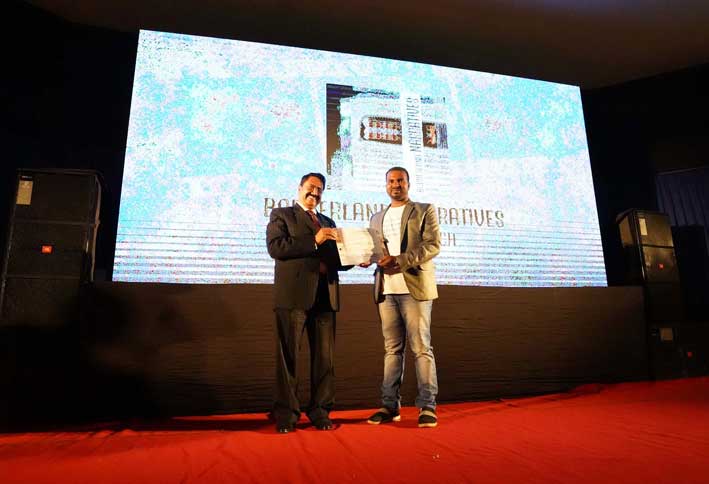 RONO HILLS, Mar 26: 'Borderland Narratives', the three-day festival of films from contemporary Northeast India, concluded at Rajiv Gandhi University (RGU) here on Monday.
Attending the closing ceremony, RGU Vice Chancellor Prof Saket Kushwaha announced to make the festival a calendar event, adding that the university would provide Rs 5 lakhs and mobilize more funds for the purpose.
Calling for preservation of the purity of languages, he urged the students of RGU to conduct "an open campus programme on language preservation that would further help the tribal communities to learn and speak their languages and dialects."
Commending the theme of the film Chori, directed by Tribeny Rai from Sikkim, Prof Kushwaha stressed on the importance of the girl child in society. He said the society needs to change its attitude towards the girl child, and that the best way to bring about such change is by showcasing the truth thro-ugh films.
"Being torchbearers of society, the filmmakers need to bring changes in different aspects of life," he said.
Prof Kushwaha, who gave away the awards to the filmmakers in the short film competition, said "making good films is more important than winning prizes."
In the short film competition, Ya:Yo (Grandmother), directed by Amalendu Kaushik from Assam, was declared the winner, while Badu: Lament of a Fleeting Soul by Toni Perme received the special jury award. The winning film received a cash prize of Rs 1 lakh, while the special jury awardee got Rs 25,000.
River Story by Yapangnaro Longkum, The Vanishing Roots: Apatani Language and Culture by Dulley Tamang, Sweet Lemon by Tanom Jerang, Pialral-Ah by Napoleon RZ Thanga, and Vanishing Roots by Tage Apa were the other films nominated for the short film competition.
On Sunday, a workshop on the topic, 'Researching film content in archives and in community' was conducted by Wangphrang Deingdoh, who is the director of the film Because We Did Not Choose, which was one of the participating films in the film festival.
The participants, who were mostly from RGU's mass communication department, were briefed on the process of filmmaking. Clearing various doubts on the topic, the resource person shared his experiences in researching film contents in archives and in the community.
Films including Songs of the Mist by Kivini Shohe (Nagaland), Haja by Emang Debbarma (Tripura), Ma.Ama by Dominic Sangma (Meghalaya), Mighty Brahmaputra by Bappa Ray (Indira Gandhi National Centre for the Arts), Dhokbu by Dawa Lepcha (Sikkim), Sulhnu by KC Zoherliana (Mizoram) and Orunasol Man by Nyago Ete were also screened during the festival.
The festival featured 19 filmmakers representing the eight Northeast states. The filmmakers who showcased their films also participated in interactions with the audience.
The event was organized by the Arunachal Institute of Tribal Studies in collaboration with the Indira Gandhi National Centre for the Arts' NE regional centre. The CCRD, the Mishmi Takin Centre for Endangered Languages, and RGU's mass communication department were the festival's partners.