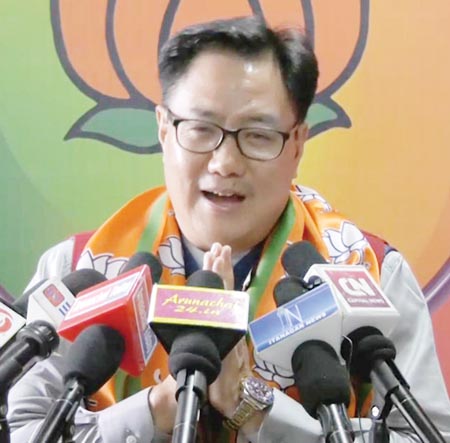 Staff Reporter
ITANAGAR, Mar 31: Union MoS for Home Kiren Rijiju on Sunday sent a strong message to the perpetrators responsible for the politically-motivated killing of two people in Tirap and Longding districts, saying stringent action would be taken in the matter under the appropriate sections of the law.
Rijiju was addressing the media at the BJP office here, along with state BJP chairman Tame Phassang and the party's Itanagar assembly constituency candidate Kipa Babu.
"The incident happened in Longding district. I, on behalf of the party and myself, express heartfelt condolence and strongly condemn the violence," the MoS said.
"In a democratic process, peaceful election should be conducted. Elections cannot be won through the gun and bullet," Rijiju added.
He said security has been beefed up in the two districts and operations are on to thwart the recurrence of such incidents in the districts.
NPP party worker Jaley Anna was killed by suspected members of the NSCN (IM) in Tirap on Friday, and former ZPM of Ninu village in Longding, Seliam Wangsa, was shot dead on Saturday evening by an unidentified assailant.
Rijiju said the state has witnessed unprecedented development under the leadership of Prime Minister Narendra Modi and Chief Minister Pema Khandu.
He said while 90 percent of the rural areas in Arunachal are being connected by roads, Rs 440 crore under the PMGSY still remains unused due to the limited number of firms.
Hitting at the opposition, Rijiju said some persons with vested interests had tried to mislead the people of Arunachal by spreading false information about the citizenship amendment bill (CAB).
"The CAB has nothing to do with Arunachal Pradesh. Arunachal is a protected state. So long as I am there at the Centre, the rights and interests of the indigenous people of Arunachal will be protected," he asserted.
On the Tibetan Refugees Rehabilitation Policy, Rijiju said those living in Arunachal should live with a well-defined rehabilitation policy and the government would ensure that no refugee living in the state avails the same rights as the indigenous people.
He also said his position as the minister of state home affairs has been beneficial for the state, particularly with regard to the Chakma-Hajong refugee issue.
"I personally pursued in foiling the move to grant citizenship to Chakmas and Hajongs after the Supreme Court gave direction in favour of them. We filed a petition, which resulted in halting of the directive. My position in the home ministry has been helpful in defending the interests of the state," he said.
Rijiju also informed that the Modi-led BJP government has lifted the Armed Forces Special Powers Act (AFSPA) from most of the places in the Northeast, including Arunachal Pradesh.
"The AFSPA remains in only a few police stations under Tirap, Changlang and Longding areas where security forces face challenges," he said.