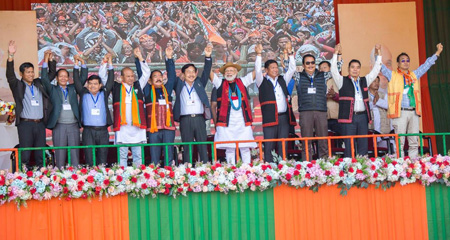 Correspondent
PASIGHAT, Apr 3: Prime Minister Narendra Modi on Wednesday lashed out at the Congress party for allegedly neglecting the Northeast region for the last many decades.
Addressing an election rally here in East Siang district, Modi said, "The Congress, which ruled the country for several decades, completely neglected the Northeast and its people. Arunachal Pradesh was kept out of the country's railway map for decades. But I was fortunate enough to have brought Arunachal Pradesh on the rail map for the first time after seven decades of independence.
We are continuously making efforts to enhance the ease of living for the people of the region."
The PM also criticized the Congress over the issue of corruption, and accused the party of not honouring the traditional customs of the ethnic tribes of the region.
Modi claimed that the NDA government under his leadership achieved remarkable development in the areas of rural road connectivity and railway and air connectivity in the NE states.
Describing the numerous infrastructural projects initiated and completed since 2014, Modi said his government brought drastic changes in infrastructure development in the region. He alleged that parties like the Congress ruled the country for decades and yet could not make this possible because "they were never concerned about the welfare of the people; their own welfare is paramount to them always."
He also said the operationalization of the Pasighat and Tezu airports and the broad gauge rail connection between Naharlagun and Guwahati have greatly enhanced connectivity in the region.
Speaking on the implementation of a number of flagship schemes initiated by his government, Modi said the schemes are helping in easing the people's lives.
He said his government has provided free LPG connection to more than seven crore poor families under the Ujjwala Yojana, and that 12 crore farming families benefitted from the Kisan Samman Yojana, even as the government has ensured free medical treatment for several crore families under the Ayushman Bharat scheme.
Highlighting the support received by the BJP from the people of Arunachal, Modi said the people of the state have "embraced the BJP and its inclusive model of development" and are witnessing how the Northeast is changing rapidly.
"A strong and stable BJP government in Arunachal Pradesh as well as at the Centre will ensure that the rapid pace of progress and security continues unhindered," he said.