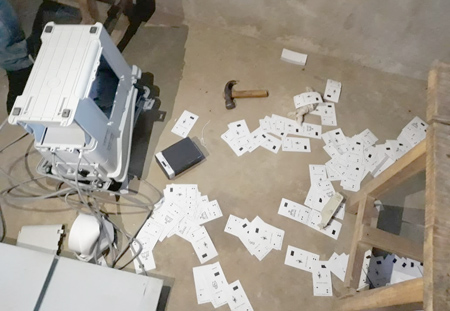 Staff Reporter
ITANAGAR, Apr 11: Sources in Lower Siang HQ Likabali have informed that the EVM machine at the Sogum polling station in the district was damaged with a hammer and other means by members of the BJP on Thursday.
The People's Party of Arunachal has placed a complaint with the returning officer, seeking immediate action against 10 people who were allegedly involved in the vandalism.
On the reports of violence and booth capturing coming in from some of the districts, the additional CEO here said the commission has received some phone calls about such incidents but it is yet to receive official reports from the district election officers.
Meanwhile, three persons were seriously injured in Pipsorang in Kurung Kumey district after a clash broke out between supporters of two rival political parties, DGP SBK Singh said.
The injured have been evacuated to Itanagar by a chopper requisitioned by the district administration, the DGP added.