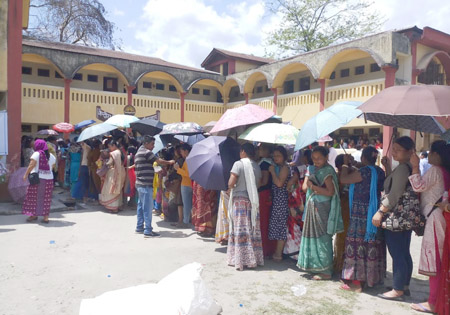 12 stations go without polling
VVPATs found defective
Staff Reporter
ITANAGAR, Apr 11: The elections for the assembly and parliamentary seats were held by and large peacefully across the state on Thursday, barring incidents of violence reported from some of the districts.
Addressing media persons this evening, Additional Chief Electoral Officer (ACEO) Kangki Darang informed that the polling percentage of electors was 66 till 8 pm, but was likely to reach the higher end of 70 percent.
"There was an unprecedented turnout of voters. We are still filtering in reports from the districts. The polling officials have to get back to the headquarters to send their reports, which may take another day or two," he said.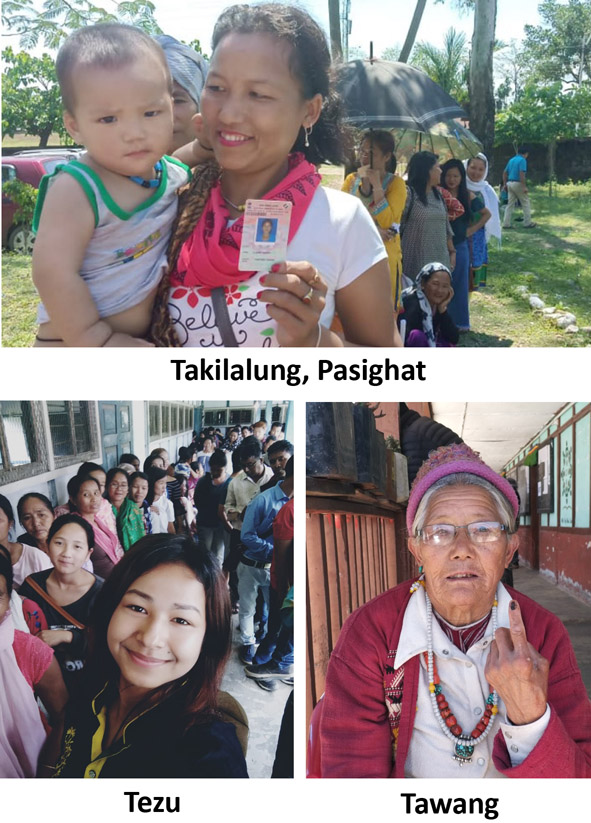 Several polling stations in the capital as well as the districts had faulty EVM/VVPAT machines, which had to be replaced with new ones.
"According to reports, 12 polling stations could not conduct polling due to defective EVMs, damage to EVMS/VVPAT, or other reasons," the ACEO informed.
These polling stations include Jomoh, Yangfo and Tagampik in East Kameng district; Dego Kamki and Lete in West Siang; Nachiban in West Kameng; Rech Taring, Joru, Korehapa and Gimba in Kra Daadi; Yachuli in Lower Subansiri; and Nasi in Upper Subansiri district.
In the morning hours, some political parties raised objection against the BJP's election agent at the school in Borum village.
The election agent was reportedly a government official, identified as Tao Ratu. The magistrate on duty, Nabam Rajesh, informed that the agent was replaced soon after a complaint had been received.
Rajesh said it is against the ECI rules for government officials to act as election agents, and that it could cost him (Ratu) his job.
Security personnel and administrative officers were also stationed at various check points across the state to avoid entry of bogus or duplicate voters on poll day.
There are 2,202 polling stations spread across the state, out of which 281 were identified as 'vulnerable' and 662 as 'critical' polling stations.
The state has a total of 7,94,162 voters, including 4,01,601 women.
The ACEO further informed that so far the total unaccounted for cash seized by the police and the ECI-appointed static surveillance teams and flying squads in the state amounted to over Rs 6 crore.
"Liquors worth 1.97 crore were also seized and destroyed in the state," he said.
Forty-five companies of central armed paramilitary forces, comprising the ITBP, the CRPF, the IRBn and the SSB, along with over 7,000 state civil police personnel were deployed.
This time there were also 11 polling stations exclusively for women.
The ruling BJP has already opened its account in the assembly polls by winning three seats unopposed. The winners are Kento Jini from the Aalo East constituency in West Siang district; Taba Tedir from the Yachuli seat in Lower Subansiri district; and Phurpa Tsering from the Dirang seat in West Kameng district.
The BJP has fielded candidates in all the remaining 57 assembly seats, while the Congress is contesting in 46 seats, the NPP in 30 seats, the JD(U) in 15 constituencies, the JD(S) in 12, and the PPA in nine. (With PTI inputs)